Miranda Hart
BAFTA award-winning queen of comedy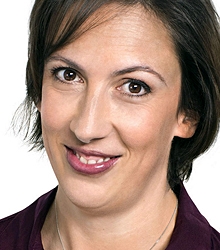 Copyright © Mark Harrisson
About
Raised in Petersfield, Hampshire, Miranda Hart is a comedy writer and actress whose BBC 2 sitcom 'Miranda' has recently earned her four BAFTA nominations, three RTS awards and three Comedy Awards. It has firmly established her as one of the country's leading comedians.

Prior to a career in comedy, Miranda was educated at Downe House in Berkshire, an independent girls' boarding school, where she was a contemporary and friend of sports presenter Clare Balding, who was also her head girl. Miranda then went to Bristol Poly/U.W.E, securing herself a 2:1 in Politics and then did a PostGrad Acting course at ALRA in London. Miranda had wanted to be a comedian for as long as she could remember, but is not giving up on her other dream to be Ladies Wimbledon Champion. In 2002, she did a solo show in Edinburgh and in 2004 she pitched a comedy show to the BBC. At her read-through for BBC executives, Jennifer Saunders was there.

Before her own series was commissioned Miranda played Barbara in BBC 1's Not Going Out with Lee Mack, and earned a British Comedy Award nomination for her role in sci-fi sitcom Hyperdrive alongside Nick Frost. She has also popped up in Nighty Night, Smack the Pony, Ab Fab, Vicar of Dibley and Jack Dee's Lead Balloon. She also recently played a cameo in David Baddiel's feature film The Infidel.

She earned her reputation as a comedian from her stand-up and sketch shows at the Edinburgh Festival and on the London circuit. She first went up to Edinburgh in 1994 and it wasn't until 2005 when she did her last show at the Festival she was able to give up temping. Her role as a stand-up has earned a place as a regular on the panel show circuit, most recently hosting Have I Got News For You. Mranda Hart was described in the Financial Times as "the most original and farcically hilarious female clown since Dawn French and Jennifer Saunders".

Miranda's last office job was as a PA at Comic Relief and she is a staunch supporter of the charity. For Sport Relief she was part of the seven strong team that made up the Million Pound Bike Ride – racing from John O'Groats to Lands End. For Comic Relief she took part in Fame Academy in 2007 and promises never to sing on television again.
Books and DVDs
Below you'll find products by Miranda Hart which may be available for purchase. Click the image to view on Amazon's website. Clients often like to purchase books and other merchandise as autographed give-aways at events where Miranda Hart is appearing. For bulk purchases, please speak with the Booking Agent handling your event.