Michael Fish MBE
Britain's longest-serving weather forecaster famous for the '87 hurricane report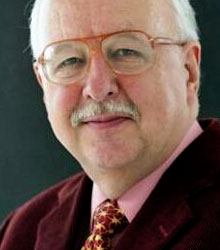 About
When Michael Fish retired he was Britain's — and possibly the world's — longest-serving TV weather forecaster. Having joined the Meteorological Office in November 1962, his first posting was to Gatwick Airport. Upon promotion in 1965, he transferred to the Met Office headquarters in Bracknell to work on research projects.

Later, while based at the London Weather Centre, he took a sandwich course in Applied Physics at the City University. Remaining at the London Weather Centre, Michael's broadcasting career began in 1971 when he started broadcasting for BBC Radio and, in January 1974, he became part of BBC Television's weather team when they were looking for a new 'young' image.

At the start there were only three live broadcasts a day to the UK, using a mixture of felt-tip pens and magnetic rubber. On retirement, there were well over 100 broadcasts a day to the whole world, using sophisticated computer graphics.

Michael Fish has made hundreds of 'non-weather' appearances on television and radio - shows ranging from light entertainment, such as Basil Brush, Showbiz Poker, Countdown and Weakest Link to factual programmes, such as Panorama and Sky At Night.

He has also been involved in the training of television weathermen in various African countries and has written numerous articles on travel and weather and acted as consultant for several meteorological books.

In 1985 the punk group Rachel and Nicki released a record dedicated to him called "I wish, I wish, he was like Michael Fish". This was featured on the 'Wogan' programme but did not reach the charts. Some years later he did reach the 'Top Ten' when featured on the 'John Kettley is a Weatherman' single.

Michael Fish will always be remembered for the mis-reported 'Hurricane' forecast in October 1987 but there were other highlights such as wiping out thousands of pigeons and the wrong sort of snow. Several years ago Michael was voted the 'Worst Dressed' and the 'Best Dressed' man on television in the same year. Four times in recent years he has been acknowledged as 'Tie Man of the Year'. He is famous for his 'Fish' motif ties of which he has over 100 and which he always wears on television.

In 1996, Michael was awarded an honorary Doctor of Science degree by the City University, London and, in 1997, he was granted the Freedom of the City of London. In June 2004 he was made an MBE in the Queen's Birthday Honours. In July 2005 he was further honoured by an award of Doctor of Science from Exeter University.

A Fellow of the Royal Meteorological Society, Michael Fish's time is spent on the after-dinner speaker and lecture circuit as well as doing voice overs, hosting award ceremonies, writing articles and publicising climate change on behalf of Government Agencies and acting as a 'relief' weatherman on BBC South East and GMTV.
Tags for Michael Fish MBE
You may also be interested in...