Men In Coats
Unique visual comedy act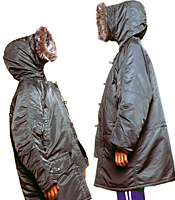 About
Created by Michael Dow, Men In Coats launched onto the British Stand Up Circuit by winning the Hackney Empire New Act of 1999. Amazingly, they sold out on their first Edinburgh run, followed by two national tours before returning to Edinburgh the following year, selling out at the much larger George Square Theatre.

The following years have seen the Men In Coats travelling and performing in some of the biggest and most prestigious venues across the world, in countries including Germany, France, Austria, Thailand, Italy, Switzerland, Belgium, Holland, Denmark, Sweden, Greece, Malta and Spain.

Known for the fact they wear matching oversized coats and stay silent through their act, they have performed for British Royalty and celebrities worldwide, and in 2003 became a resident act for BBC2's Live Floor Show.
Testimonials
Hilariously simple... Men in Coats are the talk of the Fringe
Breathtakingly imaginative... an overnight sensation
They redefine your expectations of whatcan be accomplished on a stage... theclosing applause was thunderous!
Watching this show was the happiest hour Ispent up in Edinburgh... fully deserving of aWest End transfer
You may also be interested in...