Lord Melvyn Bragg
Distinguished broadcaster, writer, novelist (The South Bank Show, In Our Time)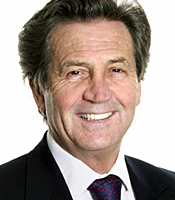 About
Broadcaster, writer and novelist, Lord Melvyn Bragg began his broadcasting career as a producer for the BBC in 1961. And since 1967 he has pursued a distinguished career as both a writer and broadcaster.

He is known for the London Weekend Television arts programme The South Bank Show, which he has written, edited and produced since 1978. He has been Controller of Arts at LWT since 1990 (including a stint as Head of Arts from 1982 to 1990). He is also known for his many programmes on BBC Radio 4, including Start the Week, which he presented for ten years, In Our Time, and The Routes of English, a history of the English language.

Melvyn Bragg was appointed to the House of Lords in 1998 as a Labour life peer, under the title Baron Bragg, of Wigton in the County of Cumbria. Lord Bragg is also President of the National Campaign for the Arts (since 1986), President of the mental health charity Mind, and a Governor of the London School of Economics (since 1997). He was made Domus Fellow, St Catherine's College, Oxford, in 1990 and he holds 12 honorary doctorates. He became a member of the Arts Council Literature Panel in 1969 and has since become Chairman.

Lord Bragg is a consummate, experienced and sought-after interviewer. He is also a popular choice for after-dinner and conference speaking and for hosting award ceremonies.
Books and DVDs
Clients often ask about purchasing books for giveaways and delegate packs. Below you'll find a selection of products by Lord Melvyn Bragg. Click the images to view on Amazon's website. For bulk orders, please speak with your Booking Agent.
Tags for Lord Melvyn Bragg
You may also be interested in...