Matthew Le Tissier
Former Southampton footballer and England international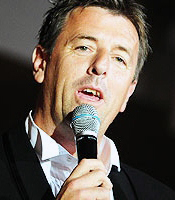 About
Matt Le Tissier is one of the greatest footballers ever to pull on the red and white of Southampton, and one of the most creative footballers in the English game. He wove magical spells with the ball in the 1990s; in his sixteen years at Southampton football club, he scored 209 goals in 540 appearances (462 starts). He has also represented England, earning 8 caps from 1994 to 1998, a ridiculously low return for someone of his talent.

Matt's decision to stay at Southampton football club his entire career earned him incredible popularity and respect with football fans. His skills on the football field did nothing to quench their desire for 'Le God' as he became known. Matt didn't just score easy tap-ins or average goals, a vast proportion of Le Tissier's goals were special. Matt would dribble it around (or sometimes over) whole defences, take venomous free kicks or hit audacious volleys. Matt also holds probably the best penalty taking record ever, slotting in 47 of 48 attempts.

Matt is now the star of Sky Sports Soccer Saturday and a columnist for skysports.com, as well as building a strong profile as a hugely popular after dinner speaker.

When not watching football, Matt can be found on the golf course with a handicap of five.

SUMMARY
• Former Southampton & England footballer.
• The first, and so far only, midfielder to score 100 goals in the English Premier League.
• Spent 16 years with 'The Saints'.
• Represented England eight times.
• Sky Sports football analyst
• Sports Speaker of the Year 2012
Testimonials
Matt was our principal after dinner speaker at our Lincoln Sportsman's Club annual dinner. He was the a fantastically eloquent speaker and gave an hilarious account of his years in football and more recently in broadcasting which were very well received by those present. After his talk he was more than happy to sign shirts and programmes and talk to anyone who wanted a chat with this very popular "footballing legend".
Over the past 20 years I have featured some of the biggest names in the sporting world at dinners I have organised but must say that I rate Matt Le Tissier as one of the best and most informative I have featured. At our recent sporting dinner Matt had the audience in the palm of his hand whilst telling stories from his own career and answering their questions on sporting history past and present. He made time for all attending by signing personal autographs and posing for photos with them, and was a true professional in every way.
Tags for Matthew Le Tissier
You may also be interested in...