Martin Raymond
Co-founder of The Future Laboratory Editor-in-Chief of Viewpoint magazine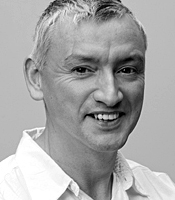 About
Martin Raymond is Editor of Viewpoint magazine, a bi-annual trends, intelligence, consumer research and forecasting journal. He is also considered to be one of the world's leading futurists, with an uncanny knack of discovering the next big thing.

Martin is also the co-founder and Futures Director of The Future Laboratory, a UK-based consumer insight, trend forecasting and brand strategy agency. Clients include American Express, Louis Vuitton, Laurent-Perrier, Absolut, BMW, Lamborghini, Chivas, New Look, Miss Selfridge, British Airways, Procter & Gamble, Marks & Spencer, Standard Life Bank, HSBC and Condé Nast.

Martin has written several books, including crEATe (Gestalten) and The Tomorrow People: Future consumers and how to read them today (Financial Times Prentice Hall), The Trend Forecaster's Handbook, which is the definitive work on trends and the trend forecasting arena.

He is a regular contributor on trends and business for the BBC, the BBC World Service programe Culture Shock, Channel 4 and ITV. Born in Ireland, he moved to the UK in 1984 to work as a journalist in the design, fashion, film and video sectors. He founded VideoGraphic, and later became an associate editor at Screen International.

Martin Raymond went on to edit and re-launch Fashion Weekly, the UK's fashion business bible. A return to his native Dublin to present RTE television's fashion magazine programme Head To Toe was followed by a four-year tenure at the London College of Fashion, as senior lecturer in fashion journalism. He maintains a busy schedule of lecturing at over 12 colleges and universities throughout Great Britain and Ireland. He is also a contributing editor for Wired UK, and a fellow of the Royal Society for the encouragement of Arts, Manufactures and Science (RSA).
You may also be interested in...