Mark Jones
MC, compere, presenter - Magic Radio, Masters Football for Sky Sports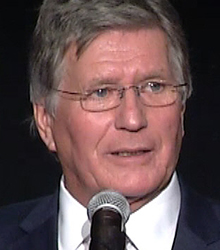 About
Mark Jones is happiest hosting awards, sportsmen's dinners andfundraisers, because they're his specialist subjects!

He has beenMaster of Ceremonies at countless events around the world, fromawardsto business summits, 'live' TV programmes, fundraisers, concerts, festivals and more. He fronted a successful 'sportsmen's-dinners-for-the-troops' tour in 2000 acrosswar-torn Kosovowith England's World Cup winnersand he even hosted the world-famous dog show'Crufts', at the NEC Arena in Birmingham.

Mark has beenMaster of Ceremonies for Manchester United's Player-of-the-Year awards every year since 2002 and has been live MC for Sky Sports'MastersFootball since 2001, hosting all their televised tournaments across the UK, plusthose in Dubai,Kuala Lumpur,Brunei andMacau inChina, presenting all the live TV interviews too. Mark has also covered Rugby League and cricket, featuring on Channel 4 and Sky Sports on their ODIs, Test Matchesand County gamesaround the UK, where he conducted all thetelevisedinterviews with Sir Ian Botham, David Gower, David 'Bumble' Lloyd,Michael Holdingand the late, great Richie Benaud.

In2001, Mark was much too close(justfour blocks away)fromNew York's Twin Towersduring the 9/11terrorist attacks.He spent the rest of thatday as a Salvation Army volunteer helping Emergency Services;for the rest of theweek, he reported'live' from Ground Zero for UK radio.

Mark Jones has unrivalled experience as one of the UK's topradio presenters. He made his name at Liverpool'sRadio City during their illustrious heyday, and became an award-winner forhosting the 'Biggest Solo Concert in history', Michael Jackson at Aintree Racecourse, where he entertained the crowd of over 125,000 onstage all day. Regularly voted'Presenter of the month', he also received many accolades fromthe Variety Club of Great Britain, where he isa long-standing Barker.Mark also covered Manchester United, Glasgow Celtic &Liverpool FC's pre-season American tours for UK radio.After several successful years broadcasting on the two huge Century FM networks(now Smooth FM), Mark returned to hosta daily UK-networked programme on Magic. He's beenregularly heard on Manchester's Magic 1152 (formerly Piccadilly Radio).He even spread his experienced wings (and tonsils) over the Atlantic, featuringon American radio stations WEFT andQ-96 in Champaign, Illinois, where he also hosted theAmerican Heart Association's black-tie fundraising dinners in 2010 and 2011, helping to raise record-breaking amounts in the auctions.

Not limiting his talents toradio, Mark has written andpublished several books, including the best-selling'Mark Jones' BirthdayBook', which becamethe definitive UK Radio reference book.
Testimonials
Thanks for a great job. I thought that your hosting of the entire Masters' series was spot-on!
One of the best and funniest compères we've ever had at any of our sportsmen's dinners...
You did a fantastic job hosting our charity event at Mere Golf and Country Club. We raised over £40,000 for the Eve Appeal, a large part of that in the auction which you handled superbly..
They were a difficult crowd to please, you did an exceptional job! Well done!
Mark Jones was excellent as MC, he had the room laughing most of the evening, kept the whole event running to time (something I was particularly worried about) did everything we requested of him and more, so much so we would like to book him again for our event next year... The feedback was extremely complimentary; we have been running this event for 30+ years using various people as MC they all assured me Mark was the best ever..
I wanted to say a huge thank you. You were absolutely brilliant! You managed to keep it all together perfectly and were extremely professional. I would have no hesitation in recommending you...
You may also be interested in...