Marc Almond OBE
Electro pop star, one half of 80s duo Soft Cell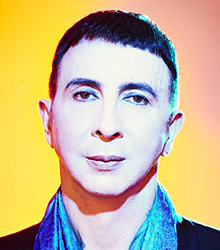 About
Marc Almond is an internationally acclaimed artist who has sold over 30 million records and is an icon and influence to a generation of musicians.

He left school with few qualifications and started singing in a local band covering hits of the day. After school, he went to art college where he developed his style of mixing experimental performance and cabaret pop with music and film studies. It was at Leeds Poly that he met David Ball and together they formed the internationally successful 'electro duo' Soft Cell in 1979.

Soft Cell were signed as part of the new electronic music phenomena. They went on to record four albums including the iconic Non Stop Erotic Cabaret, and had a number of top ten hits including Tainted Love. Tainted Love broke all records as the track that remained the longest in the US Billboard Top 100 and received a Brit award for best single of that year. It has been covered many times by artists as diverse as Marilyn Manson and The Pussy Cat Dolls.

Soft Cell parted in 1984 to pursue solo projects. Marc had already branched out with Marc and the Mambas and recorded the innovative album Torment and Toreros which Marc has called 'a nervous breakdown put to music'. Mambas shambolic and florid musical shows put him in a unique musical place that had one foot in mainstream and the other in the underground. Marc has always been one of few artists able to comfortably move from one to the other.

A successful solo career followed with over a dozen albums including Vermin in Ermine, Open All Night and Stranger Things, and a number of chart hits including Tears Run Rings, A Lover Spurned and Child Star. In 1989 Marc had another number one, a duet with the late Gene Pitney, a cover of Something's Gotten Hold of My Heart. It was number one in Britain for five weeks. The album it came from, The Stars We Are, was Marc's most successful solo album in the USA.

In 2000 Marc worked with David Ball on a Soft Cell tour and album, and they reached the top 40 with a cover of Frankie Valli's The Night. Marc went to live in Moscow and recorded a project of music that has become dear to his heart, Russian Folk and Gypsy Romance. Heart On Snow features collaborations with some of Russia's biggest musical stars. Although largely ignored in the West, Marc looks on this album as one of his most successful records.

Marc was going through a musical renaissance in 2004. He had performed a residency at London's Almeida Theatre that had received praise from both critics and audiences alike, when he was in a motorcycle accident. He was in a coma for two weeks and sustained near fatal injuries that took a few years to recover from. Marc has overcome many obstacles, including drug addiction, but the motorcycle crash was his hardest fight. He had to learn to sing again, and regain his shattered confidence. After Antony Hegarty bought him on stage at his show he began to slowly gain strength and today he is performing and singing better than ever.

He still enjoys working in electro Dance music, collaborating with underground Dance producers, though his heart lies in the marathon Chanson, folk and 'twisted pop cabaret' shows.

In 2010 Marc recorded album Variete, which was released to much critical acclaim. It celebrates Marc's 30th year as a recording artist and is his first complete album of self-written songs since Open All Night over a decade before.

Marc was awarded an OBE in the 2018 New Year's Honours List for services to Arts and Culture
Video
Click below to watch video footage of Marc Almond OBE. To enquire further about Marc Almond OBE for corporate and private bookings, please click here or call us on +44 (0)1372 361 004.
Books and DVDs
Below you'll find products by Marc Almond OBE which may be available for purchase. Click the image to view on Amazon's website. Clients often like to purchase books and other merchandise as autographed give-aways at events where Marc Almond OBE is appearing. For bulk purchases, please speak with the Booking Agent handling your event.
You may also be interested in...