Lucie Silvas
Dynamic British singer/songwriter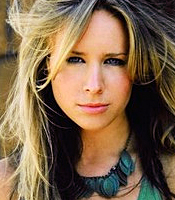 About
Lucie Silvas is a dynamic British singer with an incredible voice, star appeal and a luminousness that truly sets her apart from other female singer/songwriters.

A gifted, versatile singer with the vocal range of Christina Aguilera and a songwriting sensibility all of her own, Lucie is a natural performer and has a sensitivity to emotion, melody and storytelling that belies her 24 years. She can even count Chris Martin, Burt Bacharach and Lionel Richie as fans.

Lucie grew up immersed in music. She started playing piano at the age of five, and, at the age of 10, composed her first love song. "When everyone at school was listening to Bros, I was listening to gospel music, Stevie Wonder, Nat King Cole and The Carpenters. Especially, The Carpenters, Karen's voice was just amazing."

After several false starts, Lucie, signed now to Mercury Records, has finally produced a truly personal album which is, needless to say, full of piano driven tracks. Songs range from the stark simplicity of Forget Me Not, which features just Lucie and the piano, to big production efforts such as Don't Look Back and The Game Is Won.

Having supported Macy Gray, written songs for Rachel Stevens, Gareth Gates and Liberty X, including the hit track, Jumpin', Lucie has taken the time to find a record contract and a sound that truly accommodates her talent and reflects her style.
You may also be interested in...