Lord Adair Turner
Former Chairman of The FSA and former Director General of The CBI (1995-1999)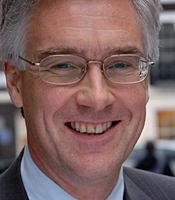 About
Adair Turner was appointed Financial Services Authority (FSA) Chairman in September 2008, the regulatory body overseeing the financial services industry in the UK. This was a position he held until its abolition in 2013.

Adair successfully rebuilt the institution's reputation after the financial crisis and negotiated changes to the regulatory regime. Under his leadership, the FSA produced an influential report in 2009 (the Turner Review) recommending a rethink of global banking regulation in response to the credit crunch and collapse of global banking liquidity. Adair has combined careers in business, public policy and academia.

In January 2008 Adair Turner was appointed Chair of the Climate Change Committee. He is a Visiting Professor at the London School of Economics and at Cass Business School, City University. He became a cross-bench member of the House of Lords in 2005; was Chairman of the Pensions Commission from 2003 - 2006, and of the Low Pay Commission from 2002 - 2006. Until September 2008 Adair Turner was a non-executive Director at Standard Chartered Bank; from 2000-2006 he was a Senior Adviser, Vice-Chairman of Merrill Lynch Europe, and from 1995-99, Director General of the Confederation of British Industry. Prior to that, he was with McKinsey and Company from 1982-95, and between 1992-1995, built McKinsey's practice in Eastern Europe and Russia. Adair was previously Chair of the Overseas Development Institute.

Since leaving the FSA, Lord Turner has taken on the role of Senior Fellow at the Institute for New Economic Thinking, a new think tank founded by George Soros dedicated to re-thinking the field of economics in the wake of the financial crisis.

Adair studied History and Economics at Gonville and Caius College, Cambridge from 1974-78, and he was a college supervisor in economics at Caius from 1979-82, teaching part time in parallel with his business career.

He has written three books, 'Just Capital – The Liberal Economy' (Macmillan, 2001), 'Economics after the Crisis – Objectives and Means' (MIT Press, 2012) and 'Between Debt and the Devil' (Princeton University Press, 2015). He also recently became a Trustee and Chair of the Audit Committee at the British Museum.

In September 2005 Adair Turner was created a life peer as Baron Turner of Ecchinswell. Ecchinswell is in the County of Hampshire and his award in recognition of his public service to the nation. He was, until appointed at the FSA, a trustee of Save the Children UK, and has been a trustee of WWF UK.

He is married with two daughters.
Tags for Lord Adair Turner
You may also be interested in...