Kit and McConnel
Two Men and a piano musical satire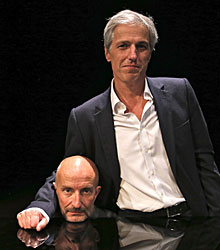 About
Kit and McConnel are the reincarnation of Kit and the Widow — an eye-wateringly funny 'two men and a piano' cabaret show featuring the fantastical Kit Hesketh-Harvey on vocals and the ridiculously talented James McConnel on piano.

Together, Kit – veteran of Radio 4's Just A Minute – and James write and perform original comedy cabaret songs, on any subject, ranging from Jeremy Corbyn to Wet Wipes.

They studied theatre writing with Stephen Sondheim at Oxford, which was followed by further collaborations, Yusupov (Bridewell) and New Edna (Theatre Royal, Haymarket) starring Barry Humphries.

Currently resident at London's The Pheasantry, the pair also prowl theatres and festivals up and down the UK – including the Edinburgh Festival, which they do every year.

'Kit and McConnel' perform at private parties, corporate events and, given the names (and any embarrassing facts) in advance, they will write a bespoke song about the host and/or all the guests.

If you like Tom Lehrer, Victor Borge, Fascinating Aida, Flanders and Swann or Anna Russell, chances are you'll like Kit and McConnel.

The duo are available for cabaret and after-dinner entertainment. They have performed for the country's top companies including Orange, Tesco, Sainsbury, Lloyds, Scottish Widows, Standard Life, Blue Circle, MacAlpine, Morgan Stanley, Powergen, House of Fraser, Sothebys, Christies, Cartier, Cadbury Schweppes, Coutts, Price Waterhouse, amongst many others now tragically insolvent or disgraced….
Performance
Kit and McConnel perform at private parties and corporate events, and, given the names (plus any facts and anecdotes) in advance, they will write a song specifically about the host and/or all the guests.

Available for anything from a thirty minute, after-dinner entertainment, to a two-part, full-length theatre show.
Tags for Kit and McConnel