Katherine Mills
One of the UK's leading female magicians and mentalists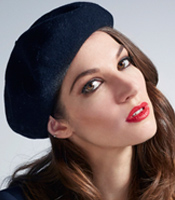 About
Katherine Mills made television history in 2014 as the first female magician to be given her own primetime TV series, Katherine Mills: Mind Games, which broadcast on UKTV's Watch channel. Katherine has also appeared in three series of hit BBC show, Help! My Supply Teacher is Magic, and The Sorcerer's Apprentice.

In 2013 her BBC show won the BAFTA for Best Children's Entertainment and in 2014 she was invited back to perform live on stage at the BAFTA ceremony and present the award for Best Original Interactive category.

Unanimously voted into The Magic Circle, Katherine has quickly become a firm favourite on the magic scene providing bespoke entertainment to an extensive client list from the largest of corporate firms to the most exclusive of private functions. Katherine's diverse, modern style combined with her sleight of hand dexterity is guaranteed to conjure up an air of elegance and wonder at any event.

Katherine has created bespoke show stopping performances working closely with brands and events to provide a truly unique experience. Previous clients include: O2, Curtiss-Wright Defense Solutions, Sika and Saudi Aramco ltd.
Performance
Katherine's extensive repertoire along with her versatility and relaxed style make her the perfect choice for any occasion. She will mingle with the crowd playing psychological mind games and performing close-up magic or entertain with a parlour show involving a group of guests.

Whether you're planning a corporate event or a private function, Katherine's illusions and sleight-of-hand are guaranteed to have your guests talking about her long after they've gone home.

Corporate Events:
Katherine is the ideal addition to any corporate party or dinner, amazing and impressing clients and colleagues using her eye-popping close up magic whilst creating a fun and relaxed atmosphere. Whether it be by producing a goldfish or changing £5 into £50 her magic is so visually powerful it can even transcend language barriers for international events.

Along with entertaining clients, magic can also be used as a tool to sell and attract customers to your stand at trade shows. In the competitive world of business magic can ensure that your products are advertised in an impactful and memorable way.

Katherine can help create a strong connection between your products and your clients via the use of corporate magic. Imagine making your product float to demonstrate its competitive price or making someone's secret thoughts appear on your latest software to demonstrate connectivity.

She can incorporate your logos, strap lines and the ethos of your campaigns in such a way that the power of the presentation will have a lasting impact on clients who attend you booths and product launches.
You may also be interested in...