Katherine Jenkins
Mezzo-Soprano and the UK's biggest selling classical artiste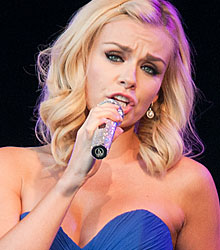 About
Katherine Jenkins' story began, quite unusually for a classical singer, when she was offered a recording contract immediately after leaving college - a six-album deal with Universal Classics.

Her debut album 'Premiere' went straight to number one in the classical charts in April 2004 and stayed there for eight weeks, outselling operatic greats like Kiri te Kanawa, Lesley Garrett and Angela Gheorghiu.

Brought up in Neath, South Wales, by the time Katherine was seven her interest in pop music had been superseded by classical music. She started taking piano lessons and joined her local church choir. Over the next ten years she represented Wales on three occasions in the Choirgirl of the Year Competition, winning the BBC Radio 2 Welsh Choirgirl of the Year Competition twice and the BET Welsh Choirgirl of the Year.

During 2004 Katherine went on tour as a special guest with Hayley Westenra. In May she was the first singer ever to perform both at the FA Cup Final and the Powergen Challenge Cup Final (Rugby League) in the same year. Both events took place in the magnificent Millennium Stadium in Cardiff - fast becoming a 'home ground' for Katherine. This was closely followed by an appearance at the Classical Brits 2004 which was broadcast on ITV1.

With the release of her second album 'Second Nature' just seven months after her first ever recording, Katherine has gone one better. Not only has she become the first mezzo-soprano to break into the pop chart in the top 20, she has also become the first artist to score two number ones in the classical chart in the same year and became the biggest selling classical artist in the UK (2004).
Books and DVDs
Below you'll find products by Katherine Jenkins which may be available for purchase. Click the image to view on Amazon's website. Clients often like to purchase books and other merchandise as autographed give-aways at events where Katherine Jenkins is appearing. For bulk purchases, please speak with the Booking Agent handling your event.
Tags for Katherine Jenkins