John Craven
Veteran broadcaster, presenter of Countryfile and Britain's Heritage Heroes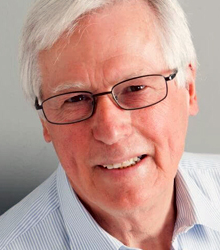 About
Whatever your age, it's unlikely you won't have heard of John Craven. Perhaps best known as the presenter and editor of the hugely popular John Craven's Newsround, a role which established him as a household name spanning two generations.

Newsround was the first television news programme in the world to report directly to children — although also watched by millions of adults! John stayed for more than 3,000 editions, spending 17 years with the programme. Children once voted him among their 100 All-Time Greats.

John Craven enjoys an equally high profile in his role as presenter of the long-running Countryfile, BBC1's rural and environmental current affairs programme, which he joined in 1989. He has distilled his knowledge, wisdom and love of the countryside into his book John Craven's Countryfile Handbook, published by BBC Books.

One of the BBC's longest standing presenters, John Craven was a host on Saturday morning children's television for over 10 years. In late 2006 he took part in a massively popular Swap Shop reunion show for BBC2, teaming up with the original line up of Noel, Keith and Maggie. He also presented Country Cops for BBC2, and shared his genuine passion for antiques in Craven's Collectables for Anglia TV.

John's other presenting roles have included BBC2's Castle in the Country, co-presented with Gloria Hunniford and Live from Chatsworth for BBC1. Both programmes have been hugely successful in the ratings. At Christmas John has presented wildlife specials on BBC1's Animal Sanctuary. John has also appeared on Country Tracks and Rewind the 60s for BBC1 and has been a guest on shows such as The One Show, BBC Breakfast and The Alan Titchmarsh Show.

John co-hosted Britain's Heritage Heroes, a 15-part series for BBC2, which put Britain's past very much in the present and explored how parts of the UK's heritage are at risk of disappearing forever. The series was based on seven main aspects of Britain's heritage that are under threat including landscape, wildlife/nature, architecture, crafts/artisans, food, travel and monuments — and celebrated the individuals who work tirelessly to save it.

When not broadcasting, John is busy with corporate work, writing, speaking engagements and personal appearances. During his career John and his programmes have won many awards, including two BAFTAs and the TV Times Awards. He is married with two daughters and lives in North Oxfordshire.

John was awarded an OBE in the Millennium Honours for services to broadcasting. In 1996, the Royal Television Society appointed him a member of its exclusive Hall of Fame, in recognition of an outstanding contribution to British television. In 2011, Newsround (and indeed, John) celebrated its 40th anniversary and was honoured at the Children's BAFTAs, receiving the Special Award in celebration of the programme's 40 years of broadcasting and in recognition of the significant contribution the programme has made to children's television for the past four decades.
You may also be interested in...