Bill Oddie
Renowned bird watcher, broadcaster, actor, TV presenter and conservationist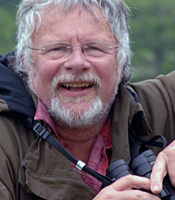 About
Bill Oddie is one of the most well-known and multi-talented show-biz personalities ever produced by this country.

Bill's popularity continues to increase with every television series, radio broadcast, book, stage and public appearance. There are not enough 'Bill Oddie's' to go round and his unique appeal makes him constantly in high demand.

Born in Rochdale in 1941, Bill was brought up largely in Birmingham. He was educated at Lapal Primary School, Halesowen Grammar School, King Edward's School, Birmingham and Pembroke College, Cambridge where he gained an M.A. in English Literature.

Appearance in several Cambridge Footlights productions, with cast members including John Cleese, Tim Brooke Taylor, Graham Chapman and Jonathan Lynn, lead to the production 'Cambridge Circus' transferring to the West End and Broadway, where, much to his bewilderment, Bill received rave reviews. Whilst still at university, Bill wrote scripts for BBC TV's "That Was The Week That Was" and, on leaving Cambridge, gave up plans to become either an English teacher or the Warden of a Bird Observatory and went into showbiz, where he has been ever since, trying to decide what he wants to do when- and if- he finally grows up.

Throughout the 1970's and early 1980's, Bill Oddie was best known to television viewers as one third of "The Goodies", an off-beat comedy series that ran for over ten years and won many international accolades. In recent years, Bill has promoted his lifetime passion for birds. He has written several books on the subject, including "Bill Oddie's Little Black Bird Book" and "Birdwatching with Bill Oddie."

Bill Oddie's art of relating to people is most brilliantly evident in his presentation of wildlife programmes for television, including "Wild Weekends" for TV AM, "The Bird Business" and "The Big Bird Race" for Channel 4 and "Oddie In Paradise" (Papua New Guinea),"The Great Kenyan Bird Safari", and two series of the immensely popular "Bird In The Nest", all for BBC TV. Also two series of ecological programmes for young people "Ask Oddie" (HTV). He is known to American birders as the co-host of the popular video game "Gone Birding", and as presenter of RSPB's "For the Birds".

Much of Bill's time is taken up with filming his wildlife programmes for BBC TV. After the success of three series of "Birding With Bill Oddie" came "Bill Oddie Goes Wild" and in recent years the much-acclaimed and successful Springwatch and Autumnwatch.

Bill Oddie's other television programmes include Star Portraits, 8 out of 10 Cats, Never Mind The Buzzcocks and Grumpy Old New Year.

Bill Oddie is an active conservationist, a past and present council member of the RSPB, the Wildfowl and Wetlands Trust, and The Worldwide Fund for Nature. He is president of The Northumberland Wildlife Trust, and represents such organizations as Birdlife International, Friends of the Earth, Plantlife, The Wildlife Trusts etc.
Books and DVDs
Clients often ask about purchasing books for giveaways and delegate packs. Below you'll find a selection of products by Bill Oddie. Click the images to view on Amazon's website. For bulk orders, please speak with your Booking Agent.
You may also be interested in...