Jason Bradbury
Presenter of The Gadget Show and children's author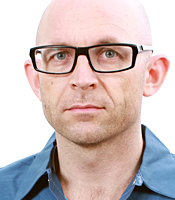 About
Jason Bradbury is the host of The Gadget Show US & The Gadget Show UK. He has worked as a TV presenter and producer on hundreds of shows in a career spanning almost twenty years.

When it comes to gadgets, science and all things tech, Jason is a force of nature. His own inventions, which include the world's first working jet-powered hoverboard, have become legendary with viewers of The Gadget Show. He is also a private pilot and is licensed by the Home Office to build transmitters.

With a passion for technology and science that is utterly infectious, Jason brings confidence to his performance on camera rarely seen in factual television. He also boasts excellent comic abilities, developed during his years a performing in a double act with Little Britain star David Walliams. Before they explored London's stand-up clubs, Jason and David formed their own comedy club with fellow performers Myfanwy Moore (producer of Little Britain) and Simon Pegg (Star Trek, Shaun of the Dead, James Bond).

Jason Bradbury is an avid collector of exotic tech. His prize possessions include a mint-condition Sinclair C5 and his current favourite gadget, the Easy Glider - a skateboard-towing electric drive wheel. He owns several robots, including dancing bi-pedal, UAVs that fly and an Automower. A complete adrenaline junkie, Jason is a six-time world record holder. His records include the world's fastest jet-powered luge, world's fastest water powered car and world's longest jump with an RC car.

An accomplished writer, Jason Bradbury has written three books with publisher Puffin. His Dot Robot series follows a twelve-year-old boy genius that invents a robot crime-fighting force. The science in the books is real and most of it has been witnessed by Jason first-hand. He is currently touring schools and festivals with the 'Dot Robot Roadshow', giving people the opportunity to see some of the science in action.

He is on the judging panels for the BAFTA Video Game Awards and the Media Guardian Innovation Awards.
You may also be interested in...