Jamie Ramsay
British long distance runner, ran from Canada to Argentina in 600 days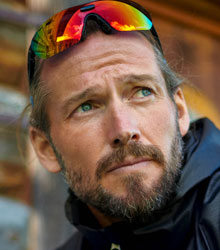 About
Jamie was born in Scotland and lives in London. After 12 years working for an international communications company Jamie decided to trade in the suit and tie for a pair of running shoes and the open road. In 2014, Jamie embarked on a 17,000km solo and unsupported running expedition from Vancouver, Canada, to Buenos Aires, Argentina, raising money for CALM, Macmillan and WaterAid. The expedition took him through 14 countries and included obstacles such as The Atacama Desert, The Andes, The Sechura Desert and negotiating his way around The Darien Gap.

​Adventure and Endurance have always been a big part of Jamie's life. After completing his first Marathon in Stockholm in 2004 he went on to do a marathon in the Lewa Safari Park, Kenya, the Wimbleball 70.3 Ironman and various openwater swims. In 2013, Jamie spent a week running 240km through Vietnam for the STV Appeal which raises money to combat poverty in Scotland.

Jamie has already had a huge media interest, with coverage from over 25 publications as well as appearing on shows such as, This Morning, BBC world, ITV news and sky news.

On 16 March 2016, Jamie was named Scottish Adventurer of the Year and won the Physical Endeavour Award at the National Adventure Awards.
Video
Click below to watch video footage of Jamie Ramsay. To enquire further about Jamie Ramsay for corporate and private bookings, please click here or call us on +44 (0)1372 361 004.
Testimonials
Considering booking Jamie Ramsay for your event? You may find the following client testimonials and comments helpful. To enquire further about Jamie Ramsay for corporate and private bookings, click here or call us on +44 (0)1372 361 004.
Jamie delivered a fantastic story of his adventures and what motivated him to take on such a massive task. His delivery was brilliant and you could see the audience become fully engaged with his open, excited and honest delivery style. The Q&A session at the end was testament to him clicking with the team and we went way over our allocated time, for all the right reasons!
Jamie is unique in that he had a proper professional business career before he became an adventurer and can relate his experiences of both to his audiences. He is an extraordinary captivating speaker with a superhuman story that could motivate anyone to push through the restrictions that we set ourselves not only in our personal lives but in our professions too. Jamie will make you realise that you are in charge of your own goals and aspirations. He left all of us reflecting on our own behaviours and questioning how we can create that sense of adventure and ambition in everything that we do. A true inspirational legend!
He spoke brilliantly, kept the entire room enthralled for an hour and motivated us all to reflect on our own self-imposed limitations and consider our true potential. His story is amazing and his personality infectious, allowing him to engage wonderfully.
I had the pleasure to collaborate with Jamie Ramsay on one of our key Microsoft campaigns. We created 3 videos with Jamie at the centre talking about his inspirational journey across America. The videos and content were amplified on our owned and social channels globally and produced great results and conversations online. Jamie was a professional throughout despite that the massive communication and logistical difficulties our team encountered due to the remoteness of our location in the Andes. Jamie is a very smart and a talented communicator which allows him get the best out of everyone he works with. His passion and energy throughout the project helped make it a successful campaign for Microsoft and I thoroughly enjoyed the time myself and the team spent with him in the Andes.
You may also be interested in...