Jamie Ramsay
26,000 km of human powered adventure in 26 Countries in 5 Years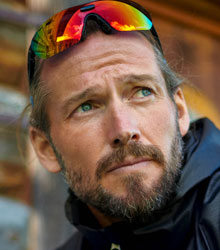 About
Jamie is a British Endurance Adventure Athlete who has completed over 26,000km of mostly solo adventuring in more than 25 countries. After a successful career in the City, Jamie decided to turn his time and focus on his passion – adventuring.

Jamie's adventures and races include:
Running The Americas: A 17,000km solo and unsupported run from Canada to Argentina. The run took 367 running days to complete, averaging over a marathon each day, crossing two continents and 14 countries. Some of the obstacles he had to overcome include navigating his way around the Darien Gap, traversing the Andes and running across the Sechura and Atacama Desert. During this run he raised funds for CALM, Macmillan and WaterAid.

Atlantic to Andes: This was a 3700km solo and unsupported cycle from Sao Paulo Airport, Brazil, to La Paz, Bolivia. The cycle took 28 days to complete and included challenges such as The Chaco in Paraguay, cycling across the Salar de Uyuni during the wet season and a ascending over 60,000m as he climbed the Andes mountains.

Mongolian Camel Trekking: In October 2017, Jamie joined a camel trekking expedition that departed Ulaanbaatar with 10 camels heading west across the Steppes. During his time with the expedition they covered over 350km in temperatures of around -20 degrees Celsius.

Jamie's other adventures include: The 265km Transalpine Run 2017, coming third in the 400km Cape Wrath Ultra 2018, setting the record for solo running the entire UK Three Peaks and running the Scottish Isles.

Jamie is now an ambassador for the Land Rover Explore phone, Powertraveller and is a GORE Wear athlete. Jamie also works closely with CALM (Campaign Against Living Miserably) and the Duke of Edinburgh Awards.
Testimonials
Jamie delivered a fantastic story of his adventures and what motivated him to take on such a massive task. His delivery was brilliant and you could see the audience become fully engaged with his open, excited and honest delivery style. The Q&A session at the end was testament to him clicking with the team and we went way over our allocated time, for all the right reasons!
Jamie is unique in that he had a proper professional business career before he became an adventurer and can relate his experiences of both to his audiences. He is an extraordinary captivating speaker with a superhuman story that could motivate anyone to push through the restrictions that we set ourselves not only in our personal lives but in our professions too. Jamie will make you realise that you are in charge of your own goals and aspirations. He left all of us reflecting on our own behaviours and questioning how we can create that sense of adventure and ambition in everything that we do. A true inspirational legend!
He spoke brilliantly, kept the entire room enthralled for an hour and motivated us all to reflect on our own self-imposed limitations and consider our true potential. His story is amazing and his personality infectious, allowing him to engage wonderfully.
I had the pleasure to collaborate with Jamie Ramsay on one of our key Microsoft campaigns. We created 3 videos with Jamie at the centre talking about his inspirational journey across America. The videos and content were amplified on our owned and social channels globally and produced great results and conversations online. Jamie was a professional throughout despite that the massive communication and logistical difficulties our team encountered due to the remoteness of our location in the Andes. Jamie is a very smart and a talented communicator which allows him get the best out of everyone he works with. His passion and energy throughout the project helped make it a successful campaign for Microsoft and I thoroughly enjoyed the time myself and the team spent with him in the Andes.
Jamie's genuine passion and enjoyment in his life as an adventurer was captivating. He kept the professional business audience fully engaged for over an hour. The time flew past. He invited questions during his talk which made everyone feel like they were part of his story rather than just listening to it. The numerous questions at the end of his talk demonstrated just how enthralled everyone was. Jamie is an inspirational individual and we all feel so much better for having had the opportunity to spend time with him. We look forward to following his ongoing adventures.
You may also be interested in...