Jake Humphrey
Sports presenter (BT Sport Football, Formula 1)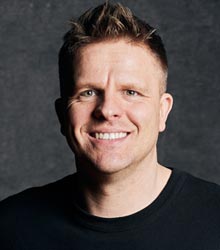 About
An experienced and knowledgeable Television and Radio broadcaster, Jake Humphrey is currently the face of Premier League Football on BT Sport having been at the forefront of much of BBC Sport's coverage for many national and international events.

In 2005, Jake began hosting Sportsround, covering major international sporting events such as the 2006 Commonwealth Games in Melbourne, the World Cup from Germany and the Cricket World Cup from Antigua in 2007. Jake also presented Football Focus in 2006, and went on to host Score, Final Score and Match of the Day from Austria and Switzerland for BBC1, BBC3 and BBCi. In 2009, he began presenting live Championship Football coverage on BBC's Match of the Day, before going on to join the BBC1 and BBC2 anchor team for the Delhi Commonwealth Games in 2010. In 2012, he broadcast at the European Championships, hosted Summer Olympics coverage for BBC One and BBC Three, as well as anchoring the BBC's award-winning Formula One coverage – a role he performed since the sport's return to the broadcaster in 2009.

Jake's BBC Sport credits also include live afternoon coverage of the Beijing Olympics, Euro 2008, the 2007 Fifa Women's World Cup in China, Sports Personality of the Year, the 2008 and 2010 Africa Cup of Nations, live Super Bowl coverage on BBC, NFL highlights from Wembley and BBC3's football coverage.

Additionally, Jake has hosted Fame Academy's daily live show and CBBC Comic Relief Does Fame Academy coverage during Red Nose Week in March 2003, 2005 and 2007. He has also presented Gimme A Break, Newsround and Beat the Pack as well as the BAFTA nominated Rule the School and Bamzooki.

He also has a weekly column in The Sun on Sunday. His first book, The Inside Track was published by Simon & Schuster in 2012.
You may also be interested in...