Ian Angell
Prof. Emeritus of Information Systems at the LSE & Europe's leading IT Visionary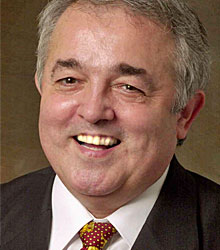 About
Ian Angell is Europe's leading IT guru and visionary. He is Professor Emeritus of Information Systems at the London School of Economics, arguably the most prestigious Information Systems Chair in the United Kingdom, and a member of the United Nations Steering Committee of Educational, Scientific and Cultural Organization at the Regional Office for Science and Technology for Europe, based in Venice.

Ian was educated at the University of Wales and the University of London. He began his academic career in 1971 as a lecturer at Royal Holloway College, University of London. In 1984 Ian Angell was appointed a senior lecturer at University College, London, before joining the LSE in 1986 as Professor of Information Systems. He is also the editor of the Macmillan series on information systems and a founder member of the European Organization for East-West Cooperation.

His many publications include: A Practical Introduction To Computer Graphics, High Resolution Computer Graphics Using C, Information Systems Management, Advanced Graphics on VGA and XGA Cards with Borland C++, and Intelligence: Logical or Biological. With this expert grasp of his subject, Ian is able to speak with authority on the global consequences of IT; applications of new technology - risks and opportunities; organizational and national IT strategies; strategic information systems; applied computing in organizations; computer graphics; and multi-media information environments. He also contributes extensively to various academic and professional journals.

Ian Angell acts as a consultant on information systems and international and organizational IT policies to some of the leading companies in the UK and the world. His ideas concerning the future of work have been reported widely in newspapers all over the globe. He is frequently requested for media appearances, commentating on developments in IT and making authoritative forecasts on possible future scenarios for business. A recent profile in The London Times, described him as the "Angell of Doom", in reference to his prediction of the painful changes in the cyberspace age - such as the end of the nation state.

Ian Angell's growing reputation comes at the culmination of ten years work developing a new perspective on information systems, stressing that the social, economic and organizational issues are more important than the technological ones. He is about to publish a book on his latest ideas, The New Barbarian Manifesto, in which he lays out his advice on how to succeed in an increasingly brutal world.
Books and DVDs
Clients often ask about purchasing books for giveaways and delegate packs. Below you'll find a selection of products by Ian Angell. Click the images to view on Amazon's website. For bulk orders, please speak with your Booking Agent.
You may also be interested in...