Helen Czerski
Physicist, oceanographer, science lecturer and television presenter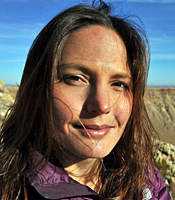 About
Helen Czerski is a Physicist, oceanographer and broadcaster with a passion for science, sport, books, creativity, hot chocolate and investigating the interesting things in life. She was born in Manchester to parents who were both inquisitive about the world and encouraged Helen and her sister to find out about the world for themselves.

In her teenage years, when the questions got too much, Helen's mum frequently said 'I don't know. You go and get a university education and then come back and tell me'. So she did. Cambridge, was her home for eight years, and now she knows the answer to at least some of those questions.

Helen graduated from the University of Cambridge with a first in Natural Sciences (Physics), and again in 2006 with a PhD in experimental explosives physics. During this time she also worked at the University of Toronto in Canada and Los Alamos National Laboratory in the USA. A continuing fascination with the world of very fast small-scale phenomena led her from explosives to the study of ocean bubble formation.

In October 2010, Helen Czerski returned to the UK after nearly four years spent working in the USA at the Scripps Institution of Oceanography in San Diego and the Graduate School of Oceanography in Rhode Island to to begin her own research project at Southampton University. Her research interests are the optics and acoustics of ocean bubbles, the structure of the bubble plumes caused by breaking waves, and the influence of ocean bubbles on the atmosphere.

Helen's first brief TV appearance was as captain of a three woman team competing in ITV's Scrapheap Challenge - they built a welly-flinging device (but didn't win). While at University Helen was active in promoting her science to other departments and the public, and started producing short videos explaining the experiments.

Finding everyone reluctant to appear on camera, she began doing the talking herself and found she had a natural flair for the job. These videos turned out so well she was asked to make more and these were published on the University and other websites. These videos and her lectures at the Science Fair brought her to the attention of the media and she was invited to be guest scientist on BBC's Blue Peter in 2005.

The next three and a half years were spent in USA and she continued to produce professional videos for the universities she worked at, and was a guest scientist on USA TV, explaining her research on bubbles and usually finishing with a demonstration involving a large bottle of soda water that soaked everyone within range.

Back in the UK the BBC invited her for screen tests to find new female science presenters, and Helen was delighted to be chosen to co-present, along with Kate Humble, a series of three science programmes - Orbit: Earth's Extraordinary Journey - which followed the extremes of the Earth's weather for an entire orbit and was shown on BBC2 in 2012.

We're surrounded by fascinating science all the time, but we don't notice most of it. Helen Czerski loves playing with everyday science, and she writes a monthly column for BBC Focus magazine called 'Everyday Science'. Helen is delighted to have been shortlisted for 'Columnist of the Year - Consumer Media' by the PPA (Professional Publishers Association) in the PPA Awards 2014.
You may also be interested in...