Fred MacAulay
One of Scotland's best-loved comedians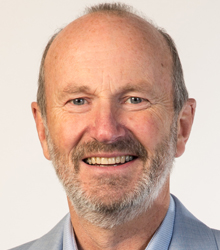 About
Fred MacAulay started out in the world of stand-up comedy at the age of 31, and soon became the first ever Scottish compere at the Comedy Store in London. He then made his television presenting debut in Scottish Television's The Funny Farm.

Fred quickly became a major force on the UK comedy circuit and made successful appearances on some of the country's top TV programmes such as Have I Got News For You, They Think It's All Over, and as team captain on Bring Me The Head of Light Entertainment and The Best Show In The World… Probably.

Fred has also successfully featured and presented many programmes for BBC Scotland. He co-hosted the very popular travelling chat show McCoist MacAulay which was networked throughout the UK.

He has also co-hosted Life According To Fred, Hoots, and Simply Fred.
Fred also holds positions outside BBC Scotland: he was Rector of Dundee University and is an Ambassador for the Prince's Scottish Youth Business Trust.

Born Perth, 1956, he attended Killin Primary, Rattray Primary, Blairgowrie High School and Perth Academy. Fred went on to study at the University of Dundee and graduated with an MA Degree in Accountancy in 1978. He received an honorary doctorate (LLD) from Dundee University in 2006.

In 2003 he entertained the troops in Iraq. In 2007 he accepted his biggest challenge since starting his career in comedy by entering the Comic Relief Does Fame Academy show.

Fred's interests include: comedy, radio, skiing, golf, theatre, cinema and, of course, his family!
Speech Topics
Fred MacAulay is in high demand as an after dinner speaker and corporate awards presenter, which has taken him to Australia, Hong Kong, America, Iceland, France and Spain.
You may also be interested in...