FabbaGirls
One of the hottest Abba tribute groups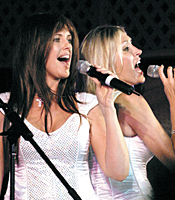 Copyright © David Wears
About
Susie Webb and Zoe Nichols were always huge ABBA fans, and after fronting well-known ABBA cover band Bjorn Again, they decided it was time to form a group of their own.

The Fabba Girls are, quite simply, the best ABBA tribute band in the business. Along with their world-class musicians this ABBA tribute band perform all over the world; in the USA for Microsoft on numerous occasions, Marrakesh for private parties, Greece at a Mamma Mia event for Dragons Den investor Theo Paphitis, in Trinidad & Tobago for the Islanders, on a yacht in Sardinia, a regular event on the water in Barbados – for Royalty, and even in Salzburg, the home town of The Sound of Music, where they ripped off their nuns habits to reveal their stunning, white satin costume!

Their humour and fabulous vocals, coupled with stunning costumes and choreography, puts them right at the top of their game! As two of London's most established vocalists Susie and Zoe have also worked with Queen, Lionel Ritchie, The Who, Billy Idol, Will Young, Phil Collins, Pavarotti and many more of the greatest rock/pop bands in the world. Their voices can be heard on commercials for Pepsi, McDonalds, Fisher Price, Calgon and Woolworths.

Susie and Zoe have performed at Party in The Park on numerous occasions to audiences of hundreds of thousands and they were given the honour to sing with 'Queen' at Buckingham Palace for HM The Queen's Golden Jubilee concert, where Brian May played his legendary guitar on the roof. The girls were then invited to Modena, Italy with Queen, to perform in the home town of the great Pavarotti, for a special concert 'Pavarotti & Friends, with Eric Clapton, Bono, Andrea Bocelli and many others.

The Fabba Girls spend much of their time travelling the world performing at private parties, public events, product launches, corporate events and charities. They are a world-class act and available as a duo, foursome, six-piece band or with an Orchestra, by special arrangement.
Testimonials
We have just recovered from our fabulous party, which was made more so by your stunning performance. We have several enquiries asking for your details for further bookings.
The FABBAGIRLS are unique. Susie and Zoe have to be seen and heard to be believed! Quite simply the best ABBA tribute band since well... ABBA! I was privileged to have Susie and Zoe in my band around the world. I hope we can do it again soon!
They are by far the best in the country ! The band is pure class and the girls are absolutely gorgeous.
We used The FABBAGIRLS to perform at a private party. The evening was absolutely brilliant! The spirit that the girls' show created was terrific – in fact a real buzz. It even had Johnny Herbert (Formula1 racing driver) moon walking across the stage and playing the keyboards with their ' Benny'!
The FABBAGIRLS have contributed significantly to a number of fund-raising events for the Lord's Taverners charity. Their enthusiasm, vivacity & professionalism is respected by both our commercial team and the customers. They've participated in concerts with a 4000+ audience at the Royal Albert Hall alongside counterfeit bands and rock legends, but also solos at 'club' evenings at restaurants like Langan's & Quaglino's. They really care about "giving young people particularly those with special needs a sporting chance.
You may also be interested in...