Emile Heskey
Former Premier League and England footballer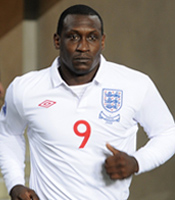 About
Emile Heskey has made more than 500 appearances in the Football League and Premier League over an 18-year career whilst representing England 62 times including two World Cups.

Born in Leicester, Emile started his career with Leicester City after progressing through their youth system, making his first team debut in 1995. After winning the League Cup in 1997 and 2000 he made an £11 million move to Liverpool in 2000, which, at the time, was the record transfer fee paid by the club. At Liverpool, he won multiple honours, including the FA Cup in 2001. He moved to Birmingham City in 2004 and after their relegation from the Premier League signed for Wigan Athletic for a club record £5.5 million fee in 2006. He then signed for Aston Villa in 2009 before signing for Australian A-League side Newcastle Jets.

Recognised as a dedicated team player who is extremely hardworking. Emile's play has been likened to "a blunt instrument with which to bludgeon defences". His main contributions to the team lie in the way he holds the ball up and draws defenders out, leaving space behind him for another player to score. Emile Heskey has been quoted as saying "forwards are judged on their goal-scoring. But I like to think I bring a lot more to the game and I do get pleasure from assisting".

Emile retired from international football following the 2010 FIFA World Cup at the age of 32, having attained 62 caps and scored seven goals for his country.