Edgar Perez
Artificial intelligence (AI), deep learning and cyber security expert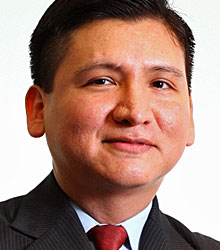 About
Edgar Perez is one the world's few business and technology experts who can light up a room with insightful and educational presentations on subjects that range from artificial intelligence and deep learning to quantum and neuromorphic computing and from cybersecurity to the latest on investing.

A former vice president at Citigroup, senior consultant at IBM, and a strategy consultant at McKinsey & Co. in New York City, he is a published author, keynote business speaker, consultant for billion-dollar private equity and hedge funds, and possesses subject matter expertise in quantum computing, artificial intelligence and deep learning, cyber security and financial regulation.

Edgar is author of The AI Breakthrough, How Artificial Intelligence is Advancing Deep Learning and Revolutionising Your World, Knightmare on Wall Street, The Rise and Fall of Knight Capital and the Biggest Risk for Financial Markets, and The Speed Traders, An Insider's Look at the New High-Frequency Trading Phenomenon That is Transforming the Investing World and Investasi Super Kilat.

Edgar has an undergraduate degree in Systems Engineering from Universidad Nacional de Ingeniería, Lima, Peru (1994), a Master of Administration from Universidad ESAN, Lima, Peru (1997) and a Master of Business Administration from Columbia Business School, New York, with a dual major in Finance and Management (2002).

He belongs to the Beta Gamma Sigma honour society and is an accomplished salsa and hustle dancer. He resides in the New York City area.
Speech Topics
Edgar Perez has addressed thousands of top executives around the world through keynote speeches and corporate training programs on quantum computing, artificial intelligence (AI), deep learning, financial trading & cybersecurity.

He has presented in Beijing, Chicago, Hong Kong, Kiev, Kuala Lumpur, Lima, London, Miami, Naples, New York, Santiago, Sao Paulo, Seoul, Shanghai, Singapore, Stockholm and Warsaw, among other global capitals. Edgar also contributes to The New York Times and China's International Finance News and Sina Finance.

Popular keynote speaking topics Include:
• The Artificial Intelligence Breakthroughs that are Changing the World
• Achieving Deep Impact with "State-of-the-art" Deep Learning
• Managing the Upcoming Tsunami of Unstructured Data with Artificial Intelligence
• The Biggest Risks for Financial Markets
• Finance in the New Global Economy
• Social Engineering: The 'Weakest Human Link' in Cyber Security
• The Importance of the Cyber Security Framework for Directors and CEOs
• Establishing or Improving a Cyber Security Program
• The Present and Future of High-Frequency Trading
• The Ultimate Business Disruptor: Quantum Computing

Edgar Perez has presented to the US Department of Defence, US Securities and Exchange Commission, Council on Foreign Relations, Quant Investment & HFT Summit APAC (Shanghai), CFA Singapore, Hong Kong Securities Institute, Courant Institute of Mathematical Sciences at New York University and University of International Business and Economics (Beijing), among other public and private institutions.

In addition, he has spoken at a number of global conferences, including Institutional Investor's CEO Roundtable (Berlin) and Global Growth Markets Forum (London), Cyber Security World Conference (New York), Inside Market Data (Chicago), Emerging Markets Investments Summit (Warsaw), CME Group's Global Financial Leadership Conference (Naples Beach), Harvard Business School's Venture Capital & Private Equity Conference (Boston), MIT Sloan Investment Management Conference (Cambridge), TradeTech Asia (Singapore) and FIXGlobal Face2Face (Seoul).
You may also be interested in...