Dr Tim Brabants MBE
Olympic sprint kayak gold medalist and specialist A&E doctor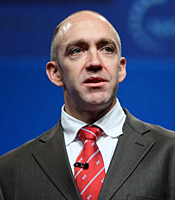 About
With three Olympic Games, one gold and two bronze Olympic medals under his belt, Dr Tim Brabants could have be forgiven for sitting back and enjoying the London 2012 Olympic Games as a spectator. Unsurprisingly for those that know him, he did no such thing as he sought to defend his Beijing Olympic gold medal in the K1 1,000m event in London.

Hailing from Walton-on-Thames in England, Tim Brabants has been representing Britain in international kayak events since winning bronze in the World Junior Championships in 1995. At his first Olympic Games in Sydney in 2000 he won a bronze medal in the K1 1,000m. He then took 18 months away from the sport to complete his medical studies at Nottingham University and in 2004 he finished a disappointed fifth in the final of the same event at the Athens Olympics.

He took a year off from competitive kayaking in 2005 to complete his medical studies at the University of Nottingham, followed by a spell as a doctor in Jersey. Tim returned to action in 2006, winning the gold medal in Racice in the K-1 1000 m event at the European Championships and the silver medal in the same event at the World Championships in Szeged in August 2006, finishing just 0.06 seconds behind Sweden's Markus Oscarsson.

A World Championship gold in the K1 1,000m and silver in the K1 500m events in 2007 showed the kayak world that Tim Brabants would be the one to beat at his third Olympics in Beijing. He left nothing to chance in his final year preparation and was rewarded with gold in the K1 1,000m event and a thrilling bronze in the K1 500m event. In doing so, Tim made his way into the history books by being the first Briton to win a gold medal in either the sprint or slalom kayak discipline.

Returning to Nottingham, Tim Brabants threw himself back into his medical work as a specialist A&E doctor at the Queen's Medical Centre. However, as he did following the Athens Games, 18 months after Beijing Tim made the decision to put his medical career on hold and move to London to commit himself to training full time for what would be his fourth Olympic Games in London 2012.

After just six months of full-time training, Tim won a Silver medal in the World Championship K1 1,000m in August 2010. This exceeded Tim's own expectations as well as the expectations of the majority of the kayaking world.

Dr Tim Brabants was awarded an MBE by HM The Queen in the 2009 New Years Honours list for his services to kayaking.
Tags for Dr Tim Brabants MBE
You may also be interested in...