Dr Ray Lowry
Retired dental and medical health specialist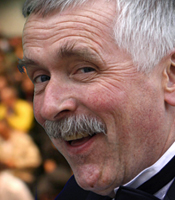 About
Dr Ray Lowry is a retired dental and medical health specialist, academic and comedy writer.

Born in the West Midlands, after winning a flying scholarship from the Royal Air Force, Ray Lowry was educated at Birmingham University where he qualified as a dental surgeon (BDS) in 1972, winning the Arthur Youngson prize for dental prosthetics; then a decde later at Leicester University where he qualified as a medical practitioner (MB, ChB) in 1982. In the intervening years Ray practised dentistry as a general dental practitioner, a community dental officer and a hospital dental surgeon, continuing with his professional training in general medicine, psychiatry, obstetrics and gynaecology and general medical practice.

Following the completion of formal training in public health - becoming an NHS consultant in 1990 - and having been a senior lecturer in dental public health at the University of Newcastle upon Tyne, Dr Ray Lowry is also on the specialist registers for medical and dental public health and holds the DRCOG and the FFPHM (Postgraduate qualifications in obstetrics/gynaecology and public health medicine respectively).

He has published over 50 articles in the learned press and has conducted quantitative and qualitative research in both medical and dental public health issues including waiting lists, water fluoridation, oral cancer, general medical services, social marketing and communication skills training for health professionals. Dr Lowry has taught medical and dental undergraduates and postgraduates and lectured at national and international conferences, and is currently the training director for public health in the Northern Region.

Dr Ray Lowry's after dinner speech is a hilarious take and 'insider view' on the dental and medical professions, with a series of very funny stories and anecdotes relating to his years experience in the profession.
Testimonials
Considering booking Dr Ray Lowry for your event? You may find the following client testimonials and comments helpful. To enquire further about Dr Ray Lowry for corporate and private bookings, click here or call us on +44 (0)1372 361 004.
I hope you enjoyed participating at the dinner last Thursday as much as we enjoyed hearing your after dinner speech, which I think hit the right spot in terms of audience and timing. It has been a long time since the PLG opted for an after dinner speaker and from the feedback I heard this has certainly wetted their appetite for future meetings. We'll certainly keep you in mind for our other clients now we have seen you at first hand.
Thank you very much for an interesting and funny talk. It was great to hear about medicine and dentistry from the other side of the counter, but without too much technical detail, and certainly not enough gore to upset the digestion!
I didn't realise dental public health could be so amusing. I'll never be able to look our local consultant in the face again!
Books and DVDs
Below you'll find products by Dr Ray Lowry which may be available for purchase. Click the image to view on Amazon's website. Clients often like to purchase books and other merchandise as autographed give-aways at events where Dr Ray Lowry is appearing. For bulk purchases, please speak with the Booking Agent handling your event.
You may also be interested in...