Richard 'Dick' Griffin LVO
Former Royal Protection Officer to HM The Queen and HRH Prince Philip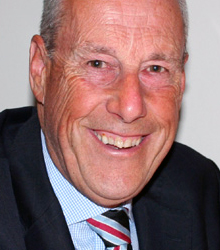 About
Richard 'Dick' Griffin is a retired Metropolitan police officer and former Royal Protection Officer to both HM The Queen and HRH Prince Philip, The Duke of Edinburgh.

Dick was born and raised in Newport, Wales, where upon reaching his 16th birthday he started work as a Police Cadet with Gwent Constabulary. During this period he undertook the challenge of The Duke of Edinburgh Award, successfully reaching the gold standard, and with no idea that HRH would one day be his employer. At 19 he decided that life in Wales was too quiet and moved to London where he joined the Metropolitan Police in 1970.

Dick served as a constable and sergeant in Central London before a tour of duty with the Obscene Publications Branch at New Scotland Yard, also known as 'The Dirty Books Squad'! He was promoted to Inspector in 1981 when events elsewhere changed his life overnight. Michael Fagan had broken into The Queen's bedroom at Buckingham Palace and Dick was part of a team of six police officers subsequently sent in to sort out the reorganisation of security procedures. On completion of this task he was selected to be a Personal Protection Officer and was sent to Cambridge University to protect HRH Prince Edward, which he did for 3 years. Dick made the most of this and gained a Bachelor of Arts Degree from The Open University.

In 1986, Dick Griffin was promoted to Chief Inspector and moved to the Household of The Duke of Edinburgh, Prince Phillip, for whom he worked over 13 very enjoyable years between 1986-1999, the highlight of which was being attacked by a giant panda whilst on a visit to China.

In 1999, Dick Griffin became a Personal Protection Officer to Her Majesty The Queen, for whom he worked during the next 14 years until his retirement in 2013. This period was the pinnacle of Dick Griffin's career as he travelled throughout the world to over 150 countries with Her Majesty and was fortunate to meet Nelson Mandela, His Holiness The Pope, President Bush and sporting icons like Paula Radcliffe. Highlights of those years were his involvement in the arrangements of both the Golden and Diamond Jubilee Celebrations as well as The 2012 London Olympics. Dick was sworn to secrecy about the James Bond clip for the opening ceremony, and even his wife didn't know about it.

In 2010, Richard 'Dick' Griffin was promoted to Superintendent and held the position known as 'The Queen's Police Officer' until he retired, when he was honoured by being made a Lieutenant of the Royal Victorian Order (LVO), a personal decoration from Her Majesty as a way of rewarding distinguished personal in her service, and on her own initiative rather than by ministerial recommendation.
Speech Topics
Dick Griffin's after dinner speech is an insightful, candid and humorous recollection of his 30+ year career as a Royal Protection Officer, during which time he served HRH Prince Philip for 13 years and HM The Queen for 14 years.

His talks include an account of the attempted kidnapping of The Princess Royal in 1974, the Buckingham Palace break-in by Michael Fagan in 1982 and many anecdotes from his career as a Personal Protection Officer.

Dick Griffin presents a highly original, entertaining and unusual speech about one of the world's most famous and documented families, don't miss your opportunity to hear firsthand what really goes on behind closed-doors in the Royal household.
Tags for Richard 'Dick' Griffin LVO
You may also be interested in...