Dr Ken Blanchard
Author of The One Minute Manager and renowned motivator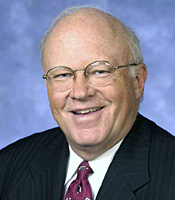 About
Revitalizing people is Ken Blanchard's passion. He has authored over 30 books since The One Minute Manager and remains a leading champion of lifelong learning and personal growth.

A compelling storyteller, Ken Blanchard teaches audiences an entirely new lexicon that fills them with a positive outlook. With inspiring anecdotes and dialogue that rejuvenates attitudes, Blanchard re-establishes a forgotten sense of commitment and personal ambition.

In areas of customer service, employee engagement, motivation and leadership, he applies time-proven tactics to supercharge people, showing them they can surpass their own expectations.

Speaking with warmth and humour, the gregarious Ken Blanchard reinvigorates audiences with a renewed sense of purpose in their lives and in their work, leaving them ready to tackle any challenge on their way to professional fulfilment.

Ken Blanchard's The One Minute Manager has sold ten million copies worldwide. Other works include The Power of Ethical Management, Full Steam Ahead!, The Leadership Pill: The Missing Ingredient in Motivating People Today and his latest, The Secret.
Books and DVDs
Clients often ask about purchasing books for giveaways and delegate packs. Below you'll find a selection of products by Dr Ken Blanchard. Click the images to view on Amazon's website. For bulk orders, please speak with your Booking Agent.
Tags for Dr Ken Blanchard
You may also be interested in...