Dr David Bull
Television presenter and medical doctor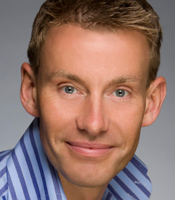 About
Well known in the media as a television presenter, having appeared on all major television channels, Dr David Bull has a background in medicine and graduated from St. Mary's Medical School, University of London, with 1st class honours. He was a full time NHS doctor for three years.

He is an ardent campaigner, and has been instrumental in a number of high-profile political campaigns including getting people out to vote, engaging young people in politics, cleaning up dirty hospitals and improving sexual health in Britain.

David is actively involved in fund raising and profile for a number of charities. He is a patron of the Cystic Fibrosis Trust, and plays a major part in the campaign to raise funds for gene therapy. For this charity he was involved in implementing new born screening for this life threatening condition, and he hosts the annual Breathing Life Awards.

David Bull is celebrity ambassador for the Red Cross, the largest humanitarian charity, as well as supporting the Duke of Edinburgh Award Scheme, Diabetes UK, Help the Aged and Medic Alert.

David co-founded his own creative communications agency the IncrediBull Group, incorporating Public Relations, Event Management, Digital and Branded TV, operating from London, San Francisco and New York.
Speech Topics
Dr David Bull is a highly experienced host and facilitator, having worked for companies such as Hewlett Packard, Roche, BT, Next plc, Cancer Research UK and many others.

He presented programmes for HSBC shown in business branches and assisted the Department of Heath with initiatives such as No Smoking Day as well as raising awareness for campaigns such as Help with Health Care. He has chaired medical symposiums for doctors, including Bayer Pharmaceuticals, Shire Health and GlaxoSmithKline.
Testimonials
On behalf of the International Fundraising Committee of the British Red Cross, I would like to express our heartfelt thanks to you for presenting our Gala Ball. Your excellent presentation skills certainly contributed greatly to the overall success and enjoyment of the evening.
The Symposium event that was facilitated by David was a fast paced dynamic event which sparked a great deal of interaction from the intended audience, David's passion, medical background and enthusiastic approach allowed for a professionally delivered event which received excellent feedback from delegates.
David was great; he worked really well in the team. It was a pleasure to work with him on a broadcast PR campaign and we certainly won't hesitate to get in touch with you again should a suitable campaign come up.
David's extraordinary ability allows him to effortlessly handle the enormous amount of instruction and conquer all challenges with the greatest of ease. He displays seemingly limitless creativity in his work and is a joy to watch and so it is no wonder that he has quickly risen to the top of his field.
You may also be interested in...