Dr Chris Steele MBE
GP and resident doctor on ITV's This Morning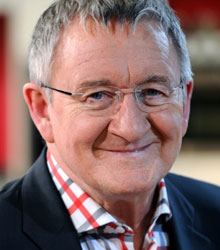 About
Dr Chris Steele MBE is a GP with over 35 years of experience in the medical profession, and has been the familiar face and resident doctor on ITV's multi award-winning show This Morning's since the first episode in 1988.

Chris qualified as a doctor in 1968 and worked as a GP in South Manchester from 1970. He became interested in treating his patients who smoked in the early 1970's and became a pioneer in this field. Dr Chris Steele is now recognised as an international expert in smoking cessation and nicotine addiction. He has over 12 years experience as a successful journalist.

As well as being a health journalist and TV doctor, Dr Chris Steele is the Health Ambassador and Patron for numerous charitable causes. He has also been a health advisor and face for many Government health initiatives, such as the Flu Vaccine.

Healthy ageing, weight loss and smoking cessation are specialities of Dr Chris. He wrote 'Quit Smoking with the Nicotine Phase out Program', and in 1989 he wrote the 'Fat Farewell Diet'. He is also the author of 'Babies and younger children'.

He was also voted Health Journalist of the Year in 2007, has received a Lifetime Achievement Award from the Guild of Health Writers in 2010, and is an MBE.

Due to his wealth of hands-on health experience (over 40 years as a practicing GP) Dr Chris Steele has had the privilege of informing the general public on all manner of health issues nationally, for over 25 years and because of this high profile media role, he has accumulated a vast knowledge in a very broad spectrum of health areas, he has his finger on the pulse of health news and is an engaging keynote speaker and accomplished presenter and broadcaster.
Tags for Dr Chris Steele MBE
You may also be interested in...