David Mellor
Businessman, broadcaster and former Conservative MP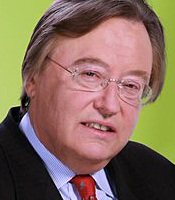 About
David Mellor was called to the bar by the Inner Temple in 1972, and became a Queen's Counsel in 1987. He was appointed a Privy Counsellor in 1990.

He won the marginal seat of Putney from Labour in 1979, and increased his majority at three successive elections, until his defeat in the Labour landslide of 1997, when the swing to Labour in Putney was one of the three lowest in Greater London.

David Mellor joined Mrs Thatcher's Government in 1981, and was for four years her youngest Minister. Between 1981 and 1992 he served in six different Departments of State, including each of the big three - The Home Office, where he was Minister of State responsible for criminal justice policy for 5 years, the Foreign Office - where he was responsible for East-West relations and the Middle East, and the Treasury. He joined the Cabinet in 1990 as Chief Secretary to the Treasury, in charge of overall Government expenditure, and in May 1992 became founding Secretary of State at the department of National Heritage.

Since leaving the Government David Mellor has pursued a multi-faceted career as a Businessman, Broadcaster and Journalist. He is Chairman of his own property company and a former Executive Partner of PCP Capital Partners, who masterminded the £5.9 billion recapitalisation of Barclays, and the acquisition of Manchester City Football Club. He is also a partner in Evans Randall, property investors, whose assets include 50% of the Gherkin. He is an advisor to Tri-Artisan Partners merchant Bank, DeBeers international retail, and other companies. He is also a former advisor to Ernst & Young.

David Mellor has presented more than 500 programmes for BBC National Radio, on four of the BBC's five national networks. For over 8 years he presented Radio 5's cult football show, 6.0.6. In his six seasons with the Saturday show, he increased the audience by 250% and was elected BBC Radio Personality of 1994 by the Variety Club.

For the last five years he has presented a Sunday lunch time programme on Classic FM, and has doubled the audience to almost 1 million listeners. His "New CD Show" on Saturday evenings is also increasingly popular. On television, David Mellor hosted two seasons of BBC2's "The Midnight Hour".

David Mellor was once described by Sir David Frost as "having more columns than the Parthenon". He is currently Music Critic of the Mail on Sunday, and former football columnist and leader writer for the London Evening Standard. For three years he was art's columnist of the Guardian, and has also been a columnist for the Daily Express, Daily Mirror and for several years wrote the long established 'Man of the People' column for the Sunday People.

David Mellor is much in demand as an after dinner speaker and regularly donates his services to charitable causes. In 1985 he was elected an Honorary Associate of the British Veterinary Association for services to animal welfare.

David Mellor was Chairman of the Governments Football Task Force from 1997 to 1999, and published five reports on key issues in the game. Most of these recommendations have been implemented. Between 1993 and 1997 he was Chairman of the Sports Aid Foundation, the charity that pre-lottery, was responsible for financing the training costs of Britain's Olympic athletes and developing new talent.
You may also be interested in...