Dan Cruickshank
Architectural historian, TV presenter and author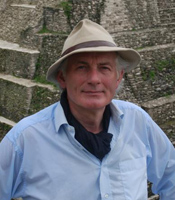 About
Dan Cruickshank is an art historian and television presenter on the BBC, best known for his popular series Britain's Best Buildings, Around the World in 80 Treasures and What the Industrial Revolution Did For Us. His series, Adventures in Architecture, for which he wrote the accompanying book, was broadcast on BBC2 in 2008. He has also presented numerous single documentaries, including The Art of Dying, and Britain's Park Story.

Dan Cruickshank started his career with the BBC as consultant, writer and presenter on the architectural programmes One Foot in the Past and The House Detectives. He also contributed films to the Timewatch and Omnibus strands. He has travelled extensively, filming in troubled regions including Afghanistan in 2002 (for the BBC Omnibus series to discover what cultural treasures remained after years of civil war and bloodshed) and Iraq (for Under Fire, reporting on the scale of looting of Iraqi treasures).

Dan Cruickshank holds a BA in Art, Design and Architecture and was formerly a visiting professor in the Department of Architecture at the University of Sheffield. He is an Honorary Fellow of the Royal Institute of British Arts. As a leading expert on architecture and historic buildings, he is a frequent contributor to The Architects' Journal and The Architectural Review. Dan is an active member of the Georgian Group and a member of the Architectural Panel of the National Trust.
Video
Click below to watch video footage of Dan Cruickshank. To enquire further about Dan Cruickshank for corporate and private bookings, please click here or call us on +44 (0)1372 361 004.
Books and DVDs
Below you'll find products by Dan Cruickshank which may be available for purchase. Click the image to view on Amazon's website. Clients often like to purchase books and other merchandise as autographed give-aways at events where Dan Cruickshank is appearing. For bulk purchases, please speak with the Booking Agent handling your event.
You may also be interested in...