Craig Phillips
Television DIY expert and the first ever winner of Big Brother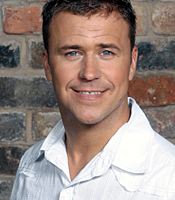 About
After his success on the very first Big Brother, Craig Phillips has established himself as one of the nation's favourite DIY experts. With over a hundred programmes under his belt, he has become a confident and experienced presenter.

Craig has appeared on four series of BBC1's Housecall, two series of Trading Up, Trading Up in the Sun and House Trap. He has just finished filming Housecall in the Country and is currently filming Big Strong Boys, both for BBC1. Earlier this year, Craig made several appearances doing DIY demonstrations in the celebrity theatre at the Ideal Home Show in Earls Court.

His first solo project entitled Boyz in the Wood, was shown on the Discovery Home & Leisure Channel at the beginning of last year and proved to be an instant hit. Throughout the series, Craig demonstrated his excellent building skills and creativeness making objects as diverse as a go-kart, skateboard and an automaton. Craig has just finished filming the second series, which is currently being shown. His other credits include Renovation Street, a home improvement series for Carlton and playing Buttons in Cinderella at the Royal Court theatre, Liverpool.

Craig is still actively involved with charitable organisations and always relishes a new challenge. He abseiled off one of London's tallest buildings, "ziplined" 600 feet across an open quarry and took part in a tandem skydive jump, all for charity. He has also run the London Marathon raising over £15,000 for the Down Syndrome Association.
You may also be interested in...