Chris Bavin
Presenter of BBC's 'Eat Well for Less'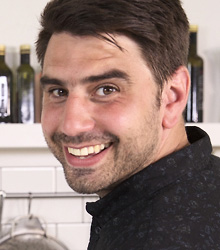 About
Chris Bavin is the charismatic co-presenter of BBC1's hugely successful series Eat Well For Less with Gregg Wallace. The show has had incredible ratings and been commissioned for two further series in 2016.

Chris ran his green grocer business, 'The Naked Grocer' in Surrey for 6 years. The successful, local shop won the title of 'National Independent Retailer of the Year' award twice and Chris Bavin is a huge advocate for small independent retailers in the UK.

After leaving school with "less than desirable" GCSE results, Chris tried his hand at various unglamorous jobs before finding a job importing flowers for a small company called Connaught Flowers. He spent much of his working day at Western International Market which specialises in horticultural produce. Chris found himself very at home with all the colourful characters and buzz of the wholesale market – this was his vocation.

After selling flowers into the wholesale markets for six years he turned his hand to selling fruit and vegetables throughout the UK. He built strong relationships with the small independent green grocers and florists and shared their passion in striving to keep independent retail flourishing.

Despite the odds being ever more stacked against independent retailers, Chris embarked on his own project and in 2009 Chris and his wife Millie opened the Naked Grocer. Chris and Millie ran the multi-award winning Greengrocers for 6 years. They have now expanded to direct home deliveries, supplying fruit and vegetable boxes for homes, offices and wholesale catering business.

Chris Bavin is passionate about educating and raising awareness in children of nutrition and food produce. One of his ambitions is to teach others how eating healthily can be cheap and easy to achieve. Chris is currently working on writing his first book.

Chris can also be seen as one of the presenters on BBC One's primetime series Tomorrows Food with Dara O'Briain which reveals the awe-inspiring future of our food. He is also set to co-present BBC Daytime's new series Good Enough To Eat with Gloria Hunniford and a new ground breaking documentary for BBC One primetime.
You may also be interested in...