Dr Brené Brown
Expert on authenticity, vulnerability and courage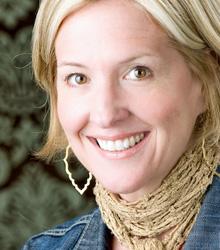 About
Dr. Brené Brown is a research professor at the University of Houston, Texas. She has spent more than a decade studying vulnerability, courage, worthiness, and shame.

Brené's 2010 TEDx Houston talk, The Power of Vulnerability, is one of the top ten most viewed TED talks in the world, with over 44 million views to-date. Additionally, Brené gave the closing talk at the 2012 TED conference where she talked about shame, courage, and innovation.

Inspirational Leadership
From developing talent and connecting with consumers, to building brands and fostering innovative cultures, inspiration is critical. Inspirational leadership is not about job titles and roles – it's a style of leadership available to anyone who is willing to practice courage in the midst of fear, to choose authenticity over self-protection, and to foster calm in times of high reactivity.

In this keynote workshop, Dr. Brené Brown will explore the three primary components of inspirational leadership; the behaviours, emotions, and thoughts that sabotage inspiration; and actionable strategies for practising inspirational leadership.

The Power of Vulnerability
In our culture, vulnerability has become synonymous with weakness. We associate vulnerability with emotions like fear, shame, and scarcity; emotions that we don't want to discuss, even when they profoundly affect the way we live, work, and even lead.

To reduce our feelings of vulnerability, we wake up every morning, put on our game face, and rarely take it off – especially at the office. We use invulnerability as a shield to protect us from uncomfortable emotions and struggles with anxiety and self-doubt. But invulnerability has a price.

Vulnerability is indeed at the core of difficult emotions, but it is also the birthplace of: Creativity and innovation, authenticity, adaptability to change and accountability – the key elements that every business needs to survive and thrive.

In this keynote workshop, Dr. Brené Brown explores the critical role vulnerability plays in our personal and professional success; the five most common strategies we use to avoid and minimise vulnerability and how they move us away from our goals; and five actionable strategies for leaning into our discomfort and embracing vulnerability as a source of strength and inspiration.

Great Expectations: What Leaders and Managers Need to Understand About Goals
Setting, tracking, and celebrating goals are primary tasks in business; however, very few managers and leaders understand the emotional, cognitive, and behavioural anatomy of the goal process. Understanding the loaded dynamics of expectations, disappointments, and accomplishments gives us more tools for cultivating success with our own goals and becoming more effective mentors for our employees.

In this keynote workshop, Dr. Brené Brown explores the relationship between buy-in and the deeply human need for purpose and meaning; how fear, blame, and scarcity sabotage the goal process; why hope, vulnerability, and self-compassion are prerequisites for success; and
Actionable strategies for increasing goal achievement.

Dr. Brené Brown is the author of two No.1 New York Times Bestsellers; Daring Greatly: How the Courage to Be Vulnerable Transforms the way we Live, Love, Parent, and Lead (Gotham, 2012) and The Gifts of Imperfection (Hazelden, 2010). She lives in Houston, Texas with her husband and children but travels the world as a highly regarded expert and sought-after keynote speaker.
Testimonials
Our session with Brené Brown was overwhelmingly positive and our leaders commented on what a great experience it was. Our survey results indicated she received the best ratings for external speakers that we've had in the last two years. Her content is applicable to our professional and personal lives, men and women alike. Her message about vulnerability is reshaping our conversation about what it means to be a good leader – we were surprised by how engaged and excited out team was about the message!
Dr. Brown's presentation was the highlight of our conference! Her presentation style was warm, funny and engaging. Her positive and uplifting message was inspirational. I heard repeatedly from our participants that they felt that her talk was life changing!
Dr. Brené Brown cuts right to the core of what is so challenging about personal and professional relationships. She is both charming and disarming, which moves us beyond our usual defences to the place where our hearts and mind open and insight occurs. At the Bill & Melinda Gates Foundation, Brené inspired hundreds of employees and leaders to dare greatly.
Brené Brown was able to really connect with our audience. Through her words of wisdom, hilarious anecdotes and her personal story, our attendees were enthralled from her first word to her last. We gave copies of her book to our attendees and throughout the day, we noticed several of our clients grabbing a quiet moment between breakout sessions and reading her book. The power of her message speaks for itself!
Let me say that my expectations were quite high based on seeing her TED talks and having spoken with Brené on the phone. That said, she exceeded my expectations. From the moment I met with her, I was taken with how down to earth and approachable she is. Brené models what she talks about, enhancing the power and impact of her message.
One question we had when we hired Brené Brown to speak to our audience of more than 3,000 business people from 90 countries was, 'Would her topic and style be effective for business?' My answer is a resounding YES. While many speakers try to motivate, Brené actually inspires people in business by helping them identify and free themselves from what blocks them from their reaching their potential. Her delivery was deeply personal yet it was relevant for all, including those in our culturally diverse audience for whom English is their second language. The universal comment from our attendees was, 'I felt she was speaking directly to me.' That is the ultimate endorsement.
Dr. Brown was exactly what we needed - when we needed it. She connected with our team of senior leaders like I have never experienced before - driving home her point that it is the human connection that will be what's absolutely necessary to navigate us through our transformation.
Thanks so much for visiting us today! Some of the words I've heard used to describe your talk have included "inspiring", "amazing" and of course... "awesome"! Your message is an important one that people need to hear. Looking forward to continuing to work with you in the future.