Ant and Dec
Comedic television presenting duo Anthony McPartlin and Declan Donnelly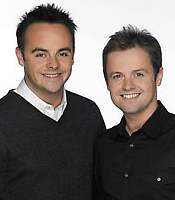 Copyright © ITV
About
Ant and Dec both met each other whilst working on the BBC's children's TV drama Byker Grove. Still at the age of 13 they became the best of friends, although at first they didn't really think much of each other!

When asked in interviews, Dec always tells the story as when he first saw Ant 'He was sitting in the corner with his head in his hands and I thought 'What a miserable bugger!'' Declan had been at Byker Grove from the start, Ant was a newcomer at the beginning of the 2nd series. But by 1993 the storyline given to PJ and Duncan (Ant and Dec) on the show lead them to their pop career! The song 'Tonight I'm Free' started it all off. Ant and Dec fans asked if they could release the single, and so they did due to the demand. Little did the lads know that this was to be the beginning of pop stardom!!!

I won't give you the full discography, but 14 fantastic singles, 3 brilliant albums and three eventful years later, Ant and Dec have put their music careers on 'the back burner'. The series most originally titled The Ant and Dec Show was born, two series were produced and shown on BBC, both were very popular and successful. However, in 1997 a move to Channel 4 meant a later time slot and a differently titled show...Ant and Dec Unzipped. Again, very successful and packed full of classic Ant and Dec humour. Anyway...the ending of their musical career after their 1997 tour was by no means the end of Ant and Dec!

A year out of the showbiz limelight was not much of a rest for Ant and Dec! Ant and Dec have undertaken four successful tours in total. They did the Psyche Tour in 1995, The Christmas Cracker Tour 1995, the Out On The Tiles Tour 1996 and the Cult Tour 1997. They were working on their latest and most successful project to date...their own Saturday Morning television show! And a show to replace The Chart Show. Ant and Dec this time decided on a move to ITV. And so...SM:tv and CD:uk were born.

As if this wasn't enough for Ant and Dec to be busying themselves with, Christmas 1999 they starred in their very first Pantomine, Snow White and the Seven Dwarfs.

2003 and 2004 Ant and Dec flew to Australia to host the second season of the hugely popular 'I'm A Celebrity Get Me Out Of Here!'

With all these achievements under their belts, it makes you wonder what more Ant and Dec are capable of suprising us with next.
You may also be interested in...