Andrew Strong & Band
BAFTA nominated lead singer from The Commitments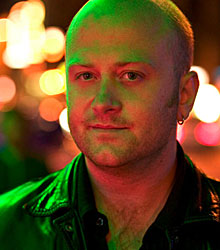 About
BAFTA nominated Irish singer/songwriter, Andrew Strong, is best known as the lead singer in the 1991 cult film The Commitments. His distinct voice quickly became associated with the most memorable scenes of the film, including his famous rendition of Mustang Sally, and it's hard not to think of the film without remembering Andrew's stunning vocal performances.

Born in 1973, Andrew grew up in Omagh, County Tyrone within a musical family, his father being one of the most pioneering rock singers in the 70's and, to this day, is still active in the industry.

Finding his way into music aged 11, Andrew formed a school band with his mates named Perfect Stranger. He then joined his second band League of Nations, again while still in school, playing mostly original material.

In 1990, at the tender age of 16, Andrew received a phone call from John Hughes, manager of The Corr's, which would forever change his life. Asked to come and sing for Alan Parker, and liking what he heard, Alan kept asking Andrew to return and sing. After a week he received a phone call from casting director John Hubbard, congratulating him on getting the part of Deco Cuffe in The Commitments, a new feature film.

1991, and the film was released to critical acclaim with the soundtrack going on to sell over 16 million copies. Andrew was nominated for a BAFTA for Best supporting Role and also a Grammy for his Contribution in The Commitments.

He made special appearances on television and in concert with The Commitments, but as his co-stars went on to tour full time as "The Stars from The Commitments", Andrew waited for the hype behind the film to die down as he wrote his own material.

Andrew Strong only ever performed once with The Commitments after the movie had premiered in New York, Los Angeles, Chicago & Dublin, plus a Bette Midler charity show at the Universal Amphitheater in Los Angeles, The Grammys & The David Letterman Show. However, he did rejoin The Commitments in March 2011, for a reunion tour to mark the 20th anniversary of the Film with four shows in Ireland, culminating at the O2 Arena in Dublin to a sold out audience of 13,000 people. In total, 24,000 fans attended over four shows.

In 1992, following the movie's release, Andrew toured Europe, USA and Australia fulfilling a huge demand for him to perform in these regions. This gave Andrew the time and experience to hone his craft as a live performer and get to see firsthand how much his music and voice has touched so many people from around the world.

Andrew then toured Europe with Elton John, performed two songs alongside Bryan Adams on stage at one of Bryan's shows in Australia, and got to perform with one of his all-time heroes, David Gilmore, for a free Amnesty International show in England and then with Prince at the RDS in Dublin.

In 1993, he recorded his first solo album 'Strong' for MCA records in NY, which sold into platinum sales. And throughout the 1990s Andrew toured Europe and performed with an A-list catalog of some of the music world's greatest stars including the Rolling Stones, Lenny Kravitz, ZZ Top, Deep Purple and Meat loaf.

In 1995, Andrew moved to LA to write new material and performed with original Blues Brothers Band in the House of Blues in Los Angeles and Boston's House of Blues.

Other career accolades include Ray Charles presenting Andrew with a Gold Record for "OUT OF TIME" for Denmark, being asked to perform for the Princess of Norway's wedding in Throndheim, winning Best Newcomer at the Telcom Awards which was presented by Mike Mills of REM.

Andrew Strong continues to tour with his band and is highly sought-after for private and corporate bookings worldwide.
Tags for Andrew Strong & Band
You may also be interested in...