Aled Jones MBE
Singer and presenter (Songs of Praise, Escape to the Country)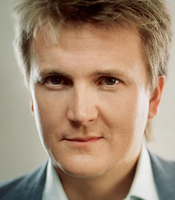 About
Aled Jones has been a household name since the 1980's. Although perhaps best remembered for singing Walking in the Air, Aled joined Bangor Cathedral choir as a nine year old chorister and enjoyed four and a half happy years there.

His talent was introduced to the world thanks to a lady in the Cathedral congregation who wrote to a local recording company suggesting they record his voice before it broke. They arrived at the Cathedral, recorded an album, and the rest is history!

Aled went on to record 16 albums as a boy and was in great demand as a soloist on TV and radio. Aled also performed on many of the world's greatest concert platforms in the UK and around the world. He sang in the Vatican and brought the summer concerts series to a close at the Hollywood Bowl in Los Angeles as well as on numerous occasions for the Royal Family. Aled retired from boy soprano singing on his 16th birthday. He was in the middle of recording an album when he literally had to call it a day and was advised not to sing publicly for five years once his voice broke.

Aled Jones has come a long way since his enforced 'retirement', when he gave up singing to concentrate on his school exams. Aled always knew he would sing again – whether that was in the bath, at home or on the stage. So while the nation mourned the loss of his treble voice, Aled concentrated on his studies and after taking his A levels, left his home in Wales and moved to London to study at the Royal Academy of Music. He went on to study at the Bristol Old Vic Theatre School before auditioning for and winning the role of Joseph in Lloyd Webber's 'Joseph and the Amazing Technicolor Dreamcoat'.

Aled Jones was then approached about a presenting role on the BBC's flagship religious programme 'Songs of Praise'. Aled's singing career blossomed again in 2002, when 'Songs of Praise' asked him to sing on the programme. The viewers loved it and this led to the release of his first real adult album entitled 'Aled' which was a storming success and went to No1 in the Classical Charts, here in the UK and as far afield as Australia.

The following year Aled was approached by Classic FM radio and offered a two-hour Sunday morning programme. Aled then released another beautiful album entitled 'Higher' and followed this with a stunning album of carols which was packed full of everyone's favourites.

More tours and more albums followed and also a change of Sunday mornings as well. Aled Jones was approached to join BBC Radio 2 and present their live flagship Sunday programme "Good Morning Sunday" which has been an amazing success for him. In addition to 'Good Morning Sunday' Aled was given a presenting role on the live BBC Radio 2 programme 'Friday Night is Music Night'.

Aled Jones currently has a total of 27 albums to his name – selling over 6 million copies to date. Aled also presents two other BBC programmes – Escape to the Country and Cash in the Attic. Aled is still singing whenever he can and undertakes several concerts each year at venues around the UK and in Australia as well as presenting roles.

Now considered an accomplished all-round performer – Aled Jones thrills audiences everywhere with his singing, acting, dancing and broadcasting, presenting - drawing people to him with his warmth and good humour as well as his undoubted talent.
You may also be interested in...