Warwick Davis
British actor (Harry Potter, Life's Too Short, Star Wars)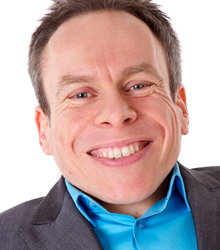 About
Warwick Davis became a household name when he starred as a fictional version of himself in Life's Too Short, written by Ricky Gervais and Stephen Merchant, who also featured in the series.

However, to many fans, Warwick will forever be remembered for playing the title characters in Willow and the Leprechaun film series, the Ewok Wicket in Star Wars Episode VI: Return of the Jedi and Professor Filius Flitwick in the Harry Potter films.

Born in Epsom, Surrey, when Warwick was 11 years old his grandmother heard a radio advert calling for people who were 4 feet tall or shorter — Warwick is 3' 6" tall — to audition for Star Wars Episode VI: Return of the Jedi. To Warwick, who was a huge fan of the Star Wars films, it was a dream come true. On the set of Return of the Jedi, Mark Hamill bought him every single Star Wars figure he didn't already own.

Warwick Davis was originally cast as an extra Ewok, but when Kenny Baker, who was originally going to be Wicket, fell ill, George Lucas chose Warwick to be the new Wicket after seeing how he carried himself as an Ewok. Warwick based his Ewok movements on his pet dog, who would tilt his head from side to side whenever he saw something strange.

In 1987, Warwick was called to Elstree Studios in London to meet with Ron Howard and George Lucas to discuss a new film project called Willow, which was written with him specifically in mind. Willow was Warwick's first opportunity to act with his face visible. He co-starred with Val Kilmer in the film, which received a Royal Premiere before the Prince and Princess of Wales.

He then moved to television to be in the BBC Television adaptation of the classic The Chronicles of Narnia. He then returned to the Star Wars universe, playing three roles in Star Wars Episode I: The Phantom Menace: Weazel, a gambler sitting next to Watto at the Podrace; Wald, who was Anakin's Rodian buddy; and Yoda in some scenes where Yoda was seen walking.

Warwick Davis played white-moustached Professor Filius Flitwick in the first two Harry Potter films, and then a black-haired unnamed chorus conductor for the third instalment of the series. In addition to playing Flitwick, he played the role of the goblin Griphook in Harry Potter and the Deathly Hallows, despite the role being played previously by fellow dwarf actor Verne Troyer.

Unlike most dwarfs who have a condition called achondroplasia, Warwick Davis' dwarfism is caused by an extremely rare genetic condition called spondyloepiphyseal dysplasia congenita (SED). He has said the only real drawback to being small was the associated health problems, and that as you get older, you can suffer from painful hips, and joints wear a lot quicker than for people of average height.

In 2010, Warwick Davis published his autobiography, "Size Matters Not: The Extraordinary Life and Career of Warwick Davis", with a foreword by George Lucas.
Testimonials
Warwick Davis was a pleasure to work with, nothing was too much to ask, he offered ideas on his visit prior to, based on his experiences, which we implemented and enhanced the experience for our guests.
You may also be interested in...