Susie Wolff
Renowned British female racing driver. Former F1 test driver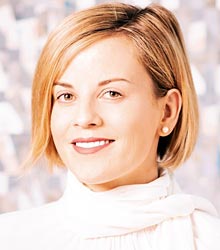 About
Susie Wolff is much more than just a great driver. She is a brilliant role model for women making headway in a profession dominated by men.
 
She is bilingual in English and German and a firm favourite with sponsors and fans and an accomplished public speaker.

Susie virtually inherited her passion for motorsport. Even as a child she accompanied her parents, who have a motorcycle shop, to different racetracks and did her very first laps in a fun kart. From the early age of 8 she started to race karts at club level.

Only a little later she successfully participated in karting championships in Scotland and England. Aged 14 she snagged the top positions at both European and international levels. Attending a Formula 3 race in 1996 at Donington Park Circuit and experiencing Jenson Button's victory, she decided to follow her dream of becoming a racing driver – all the way up to Formula 1.
After seven years with Mercedes-Benz in DTM she reached her goal and since April 2012 she is the official development driver for the Williams F1 Team. She is only one of a handful of women who made it all the way up to F1.

In 2006 Susie had her debut in DTM and finished her first race within the top 10. As a firmly established racing driver she was part of one of the most popular touring car championships in the world. 2010 then became her most successful season within DTM and made points as first woman in DTM after almost 20 years. She ended her fifth season ahead of her brand colleagues Ralf Schumacher and David Coulthard.

After 73 races and 7 seasons with Mercedes-Benz Susie decided to look for new challenges and focus on her goal of driving a F1 car.

In 2012 she was appointed development driver for the Williams F1 Team. She made her Formula One debut putting the FW33 through its paces.

In July 2013 Susie made her first appearance in a full test, and became the first female to take part in a timed F1 session since 1992. Susie Wolff impressed as she finished just over two seconds behind the World Champion in the timesheets.

At the Grand Prix of Germany in Hockenheim, Susie impressed both, her fans and her critics, with a great 15th place in the first Free Practice Session on July 18th, only 0.2 seconds after her team-mate Felipe Massa. This success finally turned Susie Wolff into one of a handful of women who made it to the Formula 1.
Speech Topics
Susie enjoys speaking at events covering a number of topics for example:

My Story - Motorsport is not just a man's world. From starting as an 8 year old in karts to achieving my dream of driving in Formula 1.

Diversity - we are not defined by our gender but by our passion and character

Motivational - dream big and always set goals. We all have a gut feeling inside leading us towards happiness and fulfilment.

You may also be interested in...