Steve Parry
Olympic bronze medal winner Athens 2004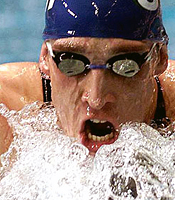 Copyright © Simon Wilkinson
About
As one of Britain's greatest ever swimmers, Steve Parry retired at the top of his game after winning an Olympic Bronze Medal in 2004 - competing in 100-metre and 200-metre butterfly distances. He was also the inspirational Team GB Swimming captain, who never failed to deliver when it mattered most.

During the Beijing Olympics in 2008 Steve established himself as part of the Radio 5 Live Team and has become integral to the BBC commentary and presentation team covering swimming. Throughout the Beijing Olympics he was also a regular guest on the sofa with Gabby Logan in the popular BBC1 round up shows. He is now a regular on Radio 5′s 'London Calling' and has also made the transition to cycling commentary with aplomb.

Born in Liverpool in 1977, Steve first joined a swimming club in Woolton and then went on to swim for the Liverpool Penguins and City of Liverpool clubs. He started training seriously when he was twelve years of age, but also enjoyed playing cricket and basketball for his school teams. Training became more intense when he was sixteen and he qualified for the European Junior Championships. The following year, aged 17, he won the competition for Great Britain.

Aged eighteen, Steve Parry left the UK to attend Florida State University, studying marketing and finance alongside his swimming. He excelled during his time in the United States, winning the NCAA title in the 200 m butterfly. After returning to Britain and joining Stockport Metro, he set a Commonwealth record at the 2000 US Nationals in Seattle, beating, among others, a very young Michael Phelps. Later that year he qualified for his first Olympic Games in Sydney.

Four years later in Athens, Greece, Steve won Britain's first Olympic swimming medal in eight years at the Athens Summer Olympics in 200-metres butterfly, being beaten by Michael Phelps and Takashi Yamamoto. Phelps had beaten him into 4th place at Sydney four years earlier.

Steve Parry retired from competitive swimming in 2005. He is now the Managing Director of Total Swimming, a company that is at the forefront of innovating the swimming space across the UK. Total Swimming's temporary pool program teaches 30,000 children to swim a year by taking pools to underprivileged children in Britain's poorest inner city areas. He is particularly keen on all children learning to swim as early as possible because of his own narrow escape from drowning at the age of nine.

Steve Parry was diagnosed with a mixed germ Seminoma and Teratoma tumours in 2009 only 4 weeks after getting married. However, after treatment for the disease Steve is now cancer free. He is an ambassador for Cancer Research UK and in 2011 teamed up with Richard Branson, Ronan Keating and other celebrities to swim the Irish Sea. The effort generated £300,000 for charity.

As an inspirational speaker, Steve Parry tells a unique story of how he turned failure into success, his natural enthusiasm and wit never fails to motivate and inspire all who listen to his unique story of life and the Olympic Games. Steve talks openly about his experiences of fighting cancer, building a business and the attributes athletes need to be world class.
Testimonials
I recently hosted a week-long team meeting for my organisation of 160 people, in order to provide vision and strategy for the department for the next several years, as well as a time for learning and team building. I chose Steve Parry to serve as a keynote speaker for the meeting, and am certainly glad that I did! Steve is a great speaker, who really commanded the stage and developed a great rapport with the audience. His presentation and story of his swimming career was quite inspiring and motivational. Additionally, Steve did an excellent job of weaving his messages in with the overall vision and content of my meeting, so that participants felt the relevance to their daily challenges. I would certainly recommend Steve Parry to other groups - he'd be a great addition to your meeting!
We were delighted with the presentation Steve Parry gave at our event. He had the audience hanging on his every word, in turn amusing, thought-provoking, and brutally honest at times; more than anything, entertaining. I was particularly impressed that even though we had a long briefing call, Steve still arrived early at the event to sense-check the tone so that he could tailor his presentation appropriately.
Steve Parry worked with us on the launch of the Schweppes Abbey Well 'Get Britain Sch...wimming' campaign. He was a real asset to the programme, supporting us with both internal and external marketing activity. Professional to the highest level throughout, Steve brought both credibility and personality to the table and I wouldn't hesitate in recommending his work.
I have received brilliant feedback with regards to Steve Parry's presentation and the delegates particularly liked the links Steve made between successful sportsman and the success in the business world. I was also impressed by the way Steve combined humour and the serious messages which made for a very entertaining and informative hour.
You may also be interested in...