Sian Williams
News presenter and journalist (BBC Breakfast, One, Six and Ten O'Clock News)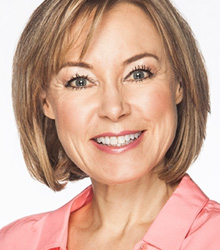 About
Joining the team in 2005, Sian Williams spent seven years on the BBC Breakfast sofa co-presenting alongside Bill Turnbull. In May 2012 Sian moved on to co-present BBC Radio 4's Saturday Live with the Reverend Richard Coles. Her ability to ask the questions we all want answered only adding to the wit and warmth of the show where ordinary people tell extraordinary stories, and a celebrity or two reveals their everyday side.

Sian remains a key member of the main BBC One newsreading team, presenting for the Six O'Clock, One O'Clock and the Ten O'Clock News. Prior to her television presenting career, Sian spent seven years as an Editor on BBC Radio 4's World At One, PM and World This Weekend, producing programmes on the General Election, Budget Specials and Radio 4 specials on the US and Russian elections.

With her easy interviewing style, as at home with stars of stage and screen as with first-time interviewees, Sian really is ideal for those events where you need a host who can bring warmth and verve to every subject under the sun. We know Sian can do it: she's been there, right in our homes, for seven years, able to add glamour and fun with a fiery intelligence. Of course her considerable experience of presenting and producing mean she can deliver to brief be it awards or moderating a conference.
Testimonials
Thank you for the part you played in making our conference such a success.
You may also be interested in...