Shappi Khorsandi
Stand up comedian, author and cultural commentator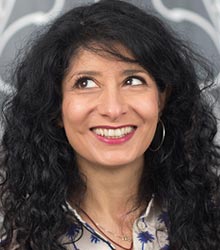 About
The daughter of an exiled writer and comic from Iran, Shappi Khorsandi's upbringing has been in no way conventional.

Her family was forced to flee Iran for London after the Islamic Revolution following the publication of a satirical poem perceived as being critical of the revolutionary regime by her father, Hadi Khorsandi; he was attacked as being an "enemy of Islam". Subsequently Shappi was raised without any religion.

From mental illness to opium dens, it's all gone on in the Khorsandi household and now she recounts it all the only way she knows how, with wit, warmth and hilarity. Feisty, flirty and effortlessly funny she handles every subject with a razor sharp wit, softened only by her deliciously dizzy delivery and endless charm.

In 2007, Shappi won Best Breakthrough Act at the Chortle Awards. That same year, she took her show 'Carry on Shappi' to the Fringe when she was 8 months pregnant, enticing at least one critic to plead "go and see her before her waters break!"

She was back in early 2008, taking 'Carry on Shappi' to the Soho Theatre in London. Shappi's 2006 show, 'Asylum Speaker' was an Edinburgh sell-out, followed by an extended run at The Soho Theatre. She has gigged internationally in the United States, the Middle East, Singapore, Australia and Amsterdam.

Shappi has appeared on Have I Got News for You, on BBC1's Lenny's Britain and BBC4's Never Mind the Full Stops. She's a regular contrinutor to BBC Radio 4 programmes such as Quote... Unquote, The Now Show, Just a Minute and also contributed to From Tehran with Laughter. Shappi has also taken part in BBC4's The Big Read.

Shappi Khorsandi is a sought after cultural commentator appearing on ITV's Sunday Edition, BBC Radio 4's Woman's Hour, Radio 5 Live, BBC World Service & LBC and also in The Guardian, The Independent, Metro and on BBC News website. She was also a panellist on BBC's Question Time. Shappi has presented a series for Open University and is a regular roving reporter for BBC South's Inside Out.

Comedy is a family business for the Khorsandi's. In Los Angeles, Shappi performed in a seven week sell-out run with her brother in a show called 'How to be Iranian' as well as starring in her own one hour show. Other work in America included a month-long tour supporting her father in his extremely popular stand-up show.
Tags for Shappi Khorsandi
You may also be interested in...