Shaolin Warriors
The remarkable skill, stunning movement and spectacular imagery of Kung Fu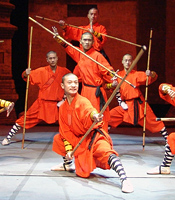 About
From the monks of an ancient temple in China, renowned for their discipline, strength and courage, comes a story of compassion, survival and triumph...

In a once forbidden world, at a time of incredible change, in the fastest growing economy on earth, a two thousand year old tradition continues at a legendary temple, famous all over the world as The Shaolin Temple.

A tradition of peace, harmony and spirituality forged through years of struggle, invasion and war, with the constant threat to their sacred temple, led the Shaolin to create a unique form of martial art, based on their spiritual beliefs, they called it, Kung Fu.

Like a sleeping dragon they were at peace with the world until it was time to awake, The Power, The Spirit, The Story, in a unique theatrical presentation by an international creative team.

For over fifteen hundred years the Shaolin Monks from China's Henan Province have applied the discipline of martial arts as a unique manifestation of their religion. The name Shaolin has become synonymous with the finest and most extraordinary feats of discipline, strength and courage; and with the growth in popularity of modern Kung Fu, the reputation of the Shaolin Monks has become established throughout the world.

Soldier Monks
In the early years immediately following the founding of the Shaolin Temple in 495 AD, the first Soldier Monks created a set of eighteen different fighting actions - the original Kung Fu - which utilised all parts of their bodies. These were combined with the use of various weapons made from simple farming tools and were initially a means of providing daily exercise and as a form of meditation. Later they were used as a means of self defence.

Wushu Retreat
What contributed to the Shaolin Monks' awesome abilities was the geographical location and distinct historical circumstances of their Temple. Its location in the Central Plains of China became an ideal retreat for retired generals, assorted malcontents and fugitives from the law who were drawn to the Temple because of its tolerant atmosphere. Most of these people were already Wushu experts and could, therefore, pass on their skills to others.
Testimonials
...they combine the agility and grace of gymnasts with the showmanship of Cirque du Soleil performers.
…so good at what they do, it almost looks like animation.
…makes for a dazzling spectacle, as was evident when the Shaolin Warriors packed the Hummingbird Centre for two shows!
Tags for Shaolin Warriors