Richard Susskind OBE
Futurist IT expert and adviser to the Lord Chief Justice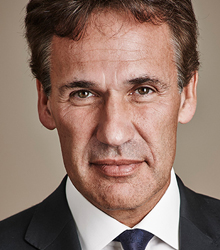 About
Professor Richard Susskind OBE is an author, speaker, and independent adviser to major professional firms and to national governments. His main area of expertise is the future of professional service and, in particular, the way in which the IT and the Internet are changing the work of lawyers.

Richard has worked on legal technology for over 30 years, lectures internationally and has been invited to speak in over 40 countries and has addressed audiences (in person and electronically), numbering more than 250,000.

He has also written and edited numerous books, including Expert Systems in Law (OUP, 1987), The Future of Law (OUP, 1996), Transforming the Law (OUP, 2000), The Susskind Interviews: Legal Experts in Changing Times (Sweet & Maxwell, 2005), The End of Lawyers? Rethinking the Nature of Legal Services (OUP, 2008), Tomorrow's Lawyers (2013), and has written around 150 columns for The Times. His work has been translated into 10 languages.

Professor Richard Susskind has advised on numerous government inquiries and, since 1998, has been IT Adviser to the Lord Chief Justice of England. In 2003, he was appointed by the Cabinet Office as Chair of the Advisory Panel on Public Sector Information, a position he held until 2008. Richard is President of the Society for Computers and Law and is Chair of the Advisory Board of the Oxford Internet Institute where he is also a Visiting Professor. He also hold professorships at UCL, Gresham College, London, and the University of Strathclyde in Glasgow.

Richard has a first class honours degree in law from the University of Glasgow and a doctorate in law and computers from Balliol College, Oxford. He is a Fellow of the Royal Society of Edinburgh and of the British Computer Society, and was awarded an OBE in the Millennium New Year's Honours List for services to IT in the Law and to the Administration of Justice.
Speech Topics
Keynote Speaking
Richard Susskind delivers keynote speeches at about 100 conferences, seminars, retreats or other events every year and has been invited to lecture in more than 40 countries around the world.

Richard has addressed audiences (in person and electronically), numbering more than 250,000. He has organised various international conferences, is a regular conference chairman and gives numerous major keynote addresses each year. When unable to attend in person, Richard regularly delivers his talks by video link, or on pre-recorded video or DVD, or as a multimedia e-learning presentation.

He is also frequently invited to act as a facilitator and chairman of meetings. Richard's speaking subjects include the future of law and legal services, the future of professional service, trends in IT and the Internet, strategy and business planning, the future of government, the future of education, IT strategy for major organisations, knowledge management, and e-business.

Consultancy
Richard Susskind works with top managers, in the private and public sectors, in helping them to think clearly and make decisions confidently about the future, and to plan for the long term within their organisations.

As an independent expert and thought leader, Richard Susskind brings fresh insight to clients, and acts as a catalyst in helping them drive forward their long term planning and implementation. He challenges in a way that is hard to do from the inside as a partner or employee. He advises his clients in a variety of ways.

The following list indicates the various ways in which Richard helps his clients. Richard Susskind acts as:

• An adviser on likely and possible trends in the legal market, using a mix of his own ideas and techniques such as 'blank-sheet thinking';
• A sounding board (a coach of sorts) for those who run firms and practices within firms, helping them to focus on future trends and plans;
• A speaker at internal conferences, away-days, leadership training events, and training sessions generally; a researcher who undertakes studies of the views of clients.
Books and DVDs
Clients often ask about purchasing books for giveaways and delegate packs. Below you'll find a selection of products by Richard Susskind OBE. Click the images to view on Amazon's website. For bulk orders, please speak with your Booking Agent.
Tags for Richard Susskind OBE
You may also be interested in...