Phil Packer MBE
Former British Army officer catastrophically injured on duty in Basra, Iraq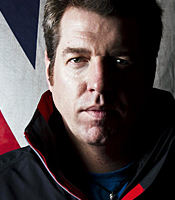 About
Phil Packer is a former British Officer who served in Her Majesty's Armed Forces for seventeen years, joining as a Private Soldier and retiring in 2010 as a Major following catastrophic spinal cord damage sustained in 2008 whilst serving on operational duty in Basra, Iraq.

Despite being told at the time that he would never walk again, he has since undertaken a number of physical challenges for charity, including walking the London Marathon in 2009 over 14 days. His fundraising efforts have raised well over a million pounds, gaining national media attention and several national awards. Phil Packer has since founded the British Inspiration Trust, which aims to support young people facing adversity.

Phil Packer, a self-confessed "adrenaline junkie" began attempting gruelling physical challenges both to raise money, and to help himself recuperate psychologically from his injuries.

His three main challenges in 2009 were completed within six months; he rowed the English Channel with Al Humphreys on 14 February, less than a year after his injury; next he entered the 2009 London Marathon - because of his ongoing therapy he had only been walking on crutches for a month - his doctors recommended that he walk no more than two miles a day, and consequently it took him thirteen days to complete the course, the longest time in the event's history.

By the end of the marathon he had raised £637,000 for Help for Heroes, a charity dedicated to disabled ex-servicemen; the same year with support from an expert climbing team he scaled El Capitan, the granite cliff in Yosemite National Park. In total he raised over £1.3 million for Help for Heroes in 2009.

In 2010 Phil Packer and BBC presenter Kate Silverton took part in the National Three Peaks Challenge for Sport Relief, climbing the highest peaks in England, Scotland and Wales in 72 hours. They were supported by Al Humphreys, Andy Kirkpatrick and Martyn Bird, and joined on Mount Snowdon by Sir Steve Redgrave and Sir Clive Woodward.

The challenge was the focus of the BBC documentary A Major Mountain to Climb. He also took part in the 2010 London Marathon, this time walking each mile with a young person from a different charity, raising money and awareness for 26 charities. He completed the marathon in his new target time of 26 hours.

Also in 2010, Phil Packer founded the British Inspiration Trust (BRIT), which aims to "deliver inspiration to young people facing adversity (who are physically or mentally disabled, deprived, have medical conditions, are injured or wounded)". The Trust was launched with an event at 10 Downing Street with Prime Minister David Cameron. It has received the backing of numerous celebrities, including Ranulph Fiennes, Richard Branson and paralympian Tanni Grey-Thompson.

In 2009, he won the Helen Rollason Award at the BBC Sports Personality of the Year awards, was "Fundraiser of the Year" at the Pride of Britain Awards, was named "Most intrepid man" by The Observer newspaper and received the Athlete of the Year Badge from The Scout Association.

Phil Packer was made an MBE in the Queen's Birthday Honours of 2010 for his fundraising work. He also serves as a patron or ambassador to seventeen charities, including The Prince's Trust, the NSPCC, Help for Heroes, the Army Benevolent Fund, Combat Stress, the Helen Rollason Cancer Charity, the National Autistic Society and the British Legion.
Testimonials
Phil Packer was the guest speaker at our annual conference this year. He talked very openly from the heart about his personal journey from his early home life, through joining the Army to 'making his Mum proud', to how he coped with the enormous challenges facing him following his appalling injuries in Iraq. His courage and determination were evident as was his humility and his genuine desire to help improve the lives of young people facing similar difficulties. He was truly inspirational and made us all realise that nothing is beyond our capabilities as long as we have all have the right attitude and persevere.
Our company conference was themed around inspiration and inspiring people. Phil Packer was the absolute highlight of the conference - I can't think of anyone else who better represents inspiration and talks from the heart in such an engaging manner.
We held a series of regional 'Inspiring People' events for our staff and we invited Phil Packer along to share his story and experiences with us - we all thought he was truly inspirational. Thanks Phil.
You may also be interested in...