Phil Hall
Publicist, former newspaper editor and Editor-in-Chief of Hello! magazine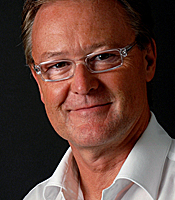 About
Phil Hall is an award-winning journalist who edited the biggest selling English newspaper, The News of The World, for 5 years before taking the helm of perhaps the highest profile magazine, Hello! Magazine. He now runs his own successful central London PR agency.

Phil Hall left school with the intention of studying English at Warwick University, where he had been offered a place. However his local newspaper set up a bursary to send two students to journalism college. Two thousand people applied, but Phil won one of the two places. Without hesitation he surrendered his university place to pursue journalism and has never looked back.

From 1974 - '80 he worked for regional newspapers as a reporter, sub editor and news editor. He then became a freelance reporter working for national titles. From 1984 - '85 he was a sub-editor for Associated Newspapers before moving to the Sunday People as Chief Reporter after just three years in Fleet Street.

In this role he travelled the world reporting the biggest stories, mostly in the world of show business. He was soon promoted to News Editor where he led a team of 30 reporters. His main aim was to break stories the rest of the media would follow which he managed to achieve with distinction.

In 1992 Phil Hall moved to the Sunday Express as News Editor. The following year he became Deputy Editor then Editor of News of The World, Britain's biggest selling newspaper until its demise in 2011 (circ. 4.5 million) with 200 staff and budget of £20 million. Phil Hall was Editor of News of The World when the late Princess Diana, with whom he had a close working relationship, was killed in a Paris car accident and has been interviewed about the incident many times during the years that followed.

In 2000, Phil Hall moved to Hello! Magazine as Editor-in-Chief. He was responsible for running the UK operation, overseeing editorial, advertising, marketing and strategy as well as managing a budget of £18 million and 60 staff.

His major achievements whilst in charge of this title include turning around eight year decline in circulation, winning a series of exclusives stories putting Hello! on front pages of national newspapers, increasing advertising revenue by 30% during first year, streamlining staff and technology to savings of nearly £2 million and implementing a strategy which forced rival magazine OK! to lose 18 per cent of its circulation.

Between 2002 - 2005 Phil Hall was Editorial Director of Development at trinity Mirror. Phil directed strategy across the Trinity Mirror Group, including the Daily Mirror (circa. 1,966,000), Sunday Mirror (circa. 1.6 million) Sunday People (circa. 1.1 million) Daily Record (circa. 500,000) and Sunday Mail (circa 600,000). Phil was tasked with regenerating all five national titles, repositioning the papers and launching new supplements which he designed himself with a chosen team.

In 2005 Phil Hall left Trinity Mirror to set up his own PR agency. Starting with a clean sheet, he now employs more than 25 staff. Phil's unique brand of PR, based on delivery and results, attracts celebrities and blue chip brand clients alike, from Gordon Ramsay to Victor Chandler to Innocent Smoothies, the list of clients is impressive... and he has the enviable reputation for having one of the best contact books in British journalism.
Speech Topics
Phil Hall is a popular and highly in-demand business keynote speaker and is able to talk on all aspects of the media and public relations.
You may also be interested in...