Judith Hann
Science journalist, broadcaster and presenter of Tomorrows' World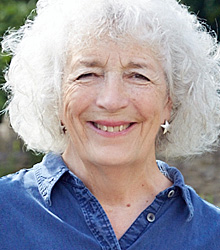 About
Judith Hann is one of Britain's leading science journalists, broadcasters and writers. She was the longest serving presenter of BBC1's popular science programme Tomorrow's World, for 20 years between 1974 - 1994, which was seen weekly by up to 12 million viewers.

Judith has also written and presented programmes and series of her own for TV and radio on healthy food, the science of ageing, renewable energy, the environment, business matters and the scientific background to personality types. She has considerable medical knowledge after presenting most of Tomorrow's World medical items, as well as fronting the BBC1 programme Watchdog Healthcheck.

Educated at state girls school, Parkfields Cedars Grammar School, in Derby, Judith Hann attended the University of Durham, from which she graduated with a BSc degree in zoology with Botany. She then trained as a newspaper journalist and then twice won the Glaxo Award for Science Writing. Judith has always carried on her writing career alongside broadcasting work and has written several books on science, medicine, health and food; How Science Works, has sold over a million copies in 20 different languages.

Judith was a member of the Biotechnology Commission, which gave policy advice on subjects like GM crops and animal cloning to the Government. She worked for the Royal Society for 11 years, showing scientists how to explain their work in an exciting way to the public. She also runs a media training and communications skills company with her husband, teaching people how to make the most of themselves, and companies how to make the most of the media.
Speech Topics
A highly experienced and popular after dinner speaker, Judith Hann also delivers high-level keynote and conference presentations and is in particular demand for her views on information technology, healthcare, futurology, change, telecommunications, small business, conservation, the environment and ecology matters, and new technologies.

Judith Hann regularly gives talks and lectures and has linked roadshows on energy efficiency and waste recycling for government departments.

Judith also chairs major conferences within the UK, for the EU and many large companies and organisations around the world.
You may also be interested in...