Harper Reed
Chief Technology Officer for Barack Obama's 2012 re-election campaign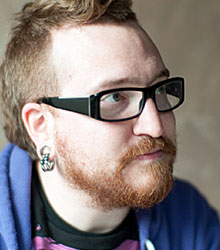 About
Harper Reed is a US-based technology engineer, entrepreneur and social media innovator. As Chief Technology Officer (CTO) for President Obama's 2012 re-election campaign and the 'get-out-the-vote programme' at the campaign HQ in Chicago, he was the man responsible for engineering perhaps the most cutting edge data science and sophisticated online political campaign of all time.

He is fascinated by how technology continues to shape, transform and empower human behaviour. He is currently the Head of Commerce at Braintree, a PayPal Company.

Harper joined Obama 2012 from the private sector, where he successfully pioneered new social media and crowd sourcing strategies - the clothing retail business Threadless, where he was CTO from 2005-2009, experienced a ten fold increase in revenue. From 2009 to 2012 he consulted for companies like Rackspace, an innovative cloud-based website host, and Sandbox Industries, a forward-thinking venture capital company which funds hundreds of tech projects in their early stages and then launches the best few. Harper has also developed a number of community based apps in Chicago.

Besides his technical accomplishments, Harper Reed is known for his punk-rock style and humorous lack of humility, variously subtitling himself as "pretty awesome" and "pretty much one of the coolest guys ever".

Harper's experience on Obama 2012 has provided him with fascinating insights on the future of big data, social media, cloud computing and how technology will continue to shape, transform and empower human behaviour. He is evangelical about how organisations can do more to nurture creativity and innovation, and is fascinated by how technology continues to shape, transform and empower human behaviour.

Harper Reed is currently looking at a range of new technology innovation opportunities.
Speech Topics
Harper Reed is a fantastic speaker on how technology can enhance business performance, foster organisational creativity and build strong teams. He also speaks eloquently on the state of data security on the internet and the demographics and constituencies of US politics.

Speaking Topics Include:
The impact of digital technology on business
Big Data
Building creative and innovative teams
Nurturing a start-up mindset
Cyber security
Video
Click below to watch video footage of Harper Reed. To enquire further about Harper Reed for corporate and private bookings, please click here or call us on +44 (0)1372 361 004.
You may also be interested in...