Gary Hamel
The world's most sought-after speaker on strategy and innovation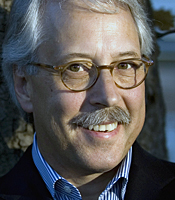 About
The Wall Street Journal recently ranked Gary Hamel as the world's most influential business thinker and Fortune magazine has called him "the world's leading expert on business strategy". Gary Hamel shows business leaders how to challenge the norms and create corporate-wide, game-breaking strategies for continuous innovation that will drive business growth.

He is the world's most sought-after speaker on strategy and innovation and the Thomas H. Murphy Distinguished Research Fellow at the Harvard Business School and a Visiting Professor of Strategic and International Management at the London Business School.

Gary Hamel has published 16 articles in the Harvard Business Review over the last 20 years and is the most reprinted author in the Review's history. He has also written for The Wall Street Journal, Fortune, Financial Times and many other leading publications around the world. He is the author of concepts such as 'core competence', 'strategic intent', 'industry foresight', and 'industry revolution'. Four of his articles have received the prestigious McKinsey Prize for excellence, a feat unmatched by any other management author. He is also author of the highly acclaimed books Competing for the Future and Leading the Revolution. His success as a writer is rivalled only by his profound and prolific lecture abilities.

Gary Hamel has given keynote speeches at the Microsoft CEO Summit, the World Economic Forum, the Fortune 500 CEO Roundtable and many other high profile events.
Books and DVDs
Clients often ask about purchasing books for giveaways and delegate packs. Below you'll find a selection of products by Gary Hamel. Click the images to view on Amazon's website. For bulk orders, please speak with your Booking Agent.
You may also be interested in...